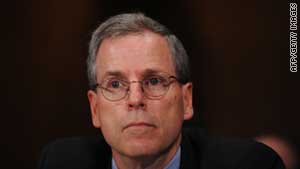 U.S. ambassador to Syria Robert Ford visited Hama Thursday, stayed overnight, and left on Friday.
STORY HIGHLIGHTS
NEW: State Department official calls Syrian ambassador "to express a number of our concerns"
The Syrian regime says Ford didn't get proper permission for the trip
But the U.S. Embassy says it got the OK for a delegation to go to Hama
(CNN) -- Diplomatic feathers were bristling in Washington and Damascus Friday, with U.S. and Syrian officials expressing displeasure over their respective counterparts.
In Washington, the State Department said Friday that Assistant Secretary for Diplomatic Security Eric Boswell had called Syrian Ambassador Imad Mustapha in to the State Department on Wednesday "to express a number of our concerns with the reported actions of certain Syrian embassy staff in the United States."
The statement, issued in response to a question taken at Friday's daily briefing, said the State Department had received reports that Syrian mission personnel had been conducting video surveillance of people participating in peaceful demonstrations in the United States.
"The United States government takes very seriously reports of any foreign government actions attempting to intimidate individuals in the United States who are exercising their lawful right to freedom of speech as protected by the U.S. Constitution," the statement said. "We are also investigating reports that the Syrian government has sought retribution against Syrian family members for the actions of their relatives in the United States exercising their lawful rights in this country and will respond accordingly."
In Damascus, the embattled Syrian regime accused the U.S. ambassador of inciting protests in the restive city of Hama, an assertion a State Department official described Friday as "absolute rubbish."
The state-run Syrian media said U.S. Ambassador to Syria Robert Ford also met with "saboteurs" and undermined the government's national dialogue initiative during a visit to that city.
The government said he had failed to seek proper permission to travel there, where thousands of people have taken to the streets for anti-government protests in recent days, including a huge turnout on Friday.
''This U.S. conduct is also aimed at obstructing dialogue and political solutions undertaken by the leadership in Syria,'' a media source quoted by the state-run Syrian Arab News Agency (SANA) said Friday.
Last month, Hama was the site of crackdowns by security forces that killed 60 protesters.
The city is a sensitive spot for Syrian authorities. In 1982, it was the scene of a brutal military crackdown targeting Sunni Muslims by the Alawite-dominated government of Hafez al-Assad, the current president's late father. Thousands were killed, with Human Rights Watch putting the toll at 10,000.

Syrian FM: No military offensive on Hama

Syria's secret doctors

Sniper: Want exile over killing civilians

Syria spying on dissidents?

Syrian FM: Syria-EU relationship is bad
In Washington, State Department spokeswoman Victoria Nuland issued a blunt rebuttal, calling the claims of incitement "absolute rubbish" and saying she was "dismayed" by the Syrian government reaction. Nuland said that the U.S. Embassy had notified the Syrian Defense Ministry before the visit and that Ford's car was waved through a security checkpoint.
"The embassy informed Syrian officials that an embassy delegation, without specifying whom, would be heading to Hama. And they then proceeded to make their way there and were allowed to proceed," Nuland said.
Back in Damascus, Bouthaina Shaaban, an adviser to President Bashar al-Assad, called the visit "an escalation on the part of the U.S. ambassador. Never before an ambassador visited a city with a problem like the case of Hama without permission."
Speaking to BBC Arabic in an interview reported by SANA, Shaaban said Ford's visit was inauspicious, coming at the "moment when a meeting is prepared between the residents, mosque imams and the civil authorities in the city aimed at finding a solution to the problem."
She said his visit undermined efforts to solve the problem and that Syrians resented his visit on the eve of the national dialogue. "This gives us a message that the U.S. says 'No' to dialogue," Shaaban said.
In Washington, the State Department noted that U.S. visits by Mustapha carried no such permission requirements.
"The United States does not restrict Ambassador Mustapha's travel throughout the country and he is not required to obtain permission prior to traveling," it said in separate statement in response to a question from Friday's daily briefing.
CNN's Elise Labott and Jomana Karadsheh contributed to this report
FOLLOW THIS TOPIC