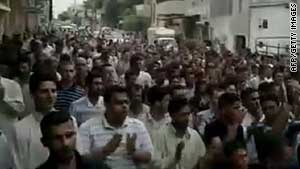 An image taken from footage uploaded on YouTube shows Syrian anti-government protesters marching in Hama Friday.
STORY HIGHLIGHTS
NEW: Five civilians and security workers are killed, state news agency reports
U.S. and French ambassadors visit Hama
Protesters reject a planned dialogue meeting
(CNN) -- Syrian protesters took to the streets again Friday, highlighting their opposition to a government-backed dialogue process in the latest display of grinding discontent across the angry Arab land.
Security forces at protests killed at least eight in several locations, including Baniyas in the northwest and the Damascus area, and at least 40 have been wounded, according to Avaaz, an activist group.
More than 100,000 people gathered in the main square of the western city of Hama, wracked this week by discord, according to Rami Abdelrahman, president of Syrian Observatory for Human Rights.
No violence had been reported during the Hama demonstrations, which are unfolding amid visits to the city by the U.S. and French ambassadors. Syria accused the American envoy of inciting and backing protesters.

Syrian FM: No military offensive on Hama

Syria's secret doctors

Sniper: Want exile over killing civilians

Syria spying on dissidents?

Syrian FM: Syria-EU relationship is bad
Security forces used tear gas and fired in the air as demonstrators gathered in the western city of Homs, the northern city of Raqqa and the Damascus suburbs, said the Local Coordination Committees of Syria, an activist group. One protester was injured in Raqqa, it said.
In contrast to activists' accounts, the state-run Syrian Arab News Agency (SANA) reported that five civilians and security workers were killed and dozens were wounded Friday by gunmen "who exploited the gathering of citizens leaving mosques" in various locations.
"This week, the terrorists targeted civilians and law enforcement personnel alike," the agency said.
Syrian state TV also reported that armed men threw Molotov cocktails at police in Daraya, one of the Damascus suburbs.
Thousands gathered in coastal city of Latakia, the northeastern cities of Qamishli and Hasaka and the southern metropolis of Daraa.
The theme of the nationwide marches after Muslim prayers is "no dialogue," a reference to a "consultative meeting" Sunday of the National Dialogue Committee.
"The meeting seeks to lay down the dialogue mechanisms and bases ahead of the national dialogue conference," according to SANA.
The agency reported that the committee has met with opposition and independent political and intellectual figures and invited them to the meeting. Various pieces of legislation are on the agenda.
Demonstrations have erupted in big and small locations across Syria every Friday for weeks, when protesters have gathered after prayers, including in Hama, the scene of much discord this week.
After a series of peaceful demonstrations, including a huge anti-government demonstration last Friday, Syrian President Bashar al-Assad fired the Hama provincial governor Saturday and a fierce crackdown ensued in the area, with activists and Human Rights Watch reporting many arrests and deaths. Citizens called a general strike in the city, Syria's fourth largest.
On Thursday, Robert Ford, the U.S. ambassador to Syria, visited the city as part of what the State Department called an effort to show American support for Syrians fighting for democracy. He was in Hama early Friday and departed.
Ford visited Hama "to make absolutely clear with his physical presence that we stand with those Syrians who are expressing their right to speak for change," according to State Department spokeswoman Victoria Nuland.
The ambassador met with more than a dozen Hama residents and visited a hospital that has treated some of those wounded in the security forces crackdown, Nuland said, adding that he was greeted with a "very warm welcome."
SANA reported that a Foreign Ministry source accused Ford of going to Hama without obtaining permission from the government. According to the report, the Foreign Ministry official said Ford's visit was "clear evidence of the U.S. involvement in the ongoing events in Syria and its bids to aggravate the situations which destabilize Syria.''
Nuland, however, said U.S. officials notified the Syrian government that an embassy team was traveling to Hama.
Ford's delegation did not include any official Syrian "handlers," Nuland said, adding that Syrian authorities allowed him through checkpoints to reach the town.
A banner on state TV on Friday accused Ford inciting and participating in the protests in Hama, and state TV reported a statement from the Interior Ministry that said he met with "saboteurs in Hama and incited them to protest and reject the dialogue."
France's ambassador to Syria, Eric Chevallier, visited Hama on Thursday and spent the night there, the French government said. He met with wounded people and their families and medical staffers at a hospital.
"France reiterates its concern about the fate of the inhabitants of the city of Hama and condemns the violence perpetrated by the authorities in Syria against the demonstrators and civilians," the Foreign Ministry said in a written statement.
France urged Syrian authorities to engage in a reform process, end repression and release political prisoners.
Last month, Hama was the site of violent crackdowns by security forces that killed 60 protesters.
The city is a sensitive spot for Syrian authorities. In 1982, it was the scene of a brutal military crackdown targeting Sunni Muslims by the Alawite-dominated government of Hafez al-Assad, the current president's late father. Thousands were killed; Human Rights Watch put the toll at 10,000.
CNN's Salma Abdelaziz, Yousuf Basil, Elise Labott and Arwa Damon contributed to this report.
FOLLOW THIS TOPIC