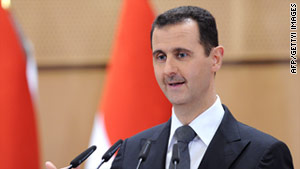 Ammesty International's human rights report documents arbitrary detentions and severe torture under the regime of Bashar al-Assad.
STORY HIGHLIGHTS
Amnesty International documents torture and death in Tal Kalakh
It says detrainees were tortured, some with electric shocks
At least nine men died in custody
The report urges that Syria be referred to the International Criminal Court
(CNN) -- Syrian authorities may have committed crimes against humanity and the United Nations Security Council should refer Bashar al-Assad's regime to the International Criminal Court, said a report issued Wednesday by Amnesty International.
The human rights report documents arbitrary detentions, severe torture and at least nine deaths in custody that occurred after Syrian authorities began a "devastating security operation" May 14 in the western town of Tal Kalakh, near the Lebanese border.
Many fled the violence, sometimes crawling across mountainous terrain in a frantic effort to reach safety in Lebanon. Amnesty researcher Cilina Nasser conducted more than 50 interviews with people from Tal Kallakh.
"I just had to do something to make this information public so there is added pressure on the Syrian authorities to stop these actions that are just unacceptable," she said in a telephone interview from Beirut. "It is really shocking."
Activist offers account of abduction, beatings
Nasser said al-Assad has failed in his speeches to call for an investigation into crimes committed by the army and security forces. She said the Syrian government "cannot talk about reforms while they are committing crimes against humanity."
The monitoring group, like most international media, was not granted permission to enter Syria. Nasser said she spoke with refugees crossing into Lebanon and also conducted telephone interviews.

Syrian FM: No military offensive on Hama

Syria spying on dissedents?
Syrian refugees interviewed by CNN also described witnessing atrocities and said bloated dead bodies littered the streets of Tal Kalakh, where anti-government protests erupted in March.
Five released detainees and relatives of others in custody described torture methods to Amnesty that included electric shocks, being forced into stressful positions or into a tire and then beaten.
"The interrogator asked me if I was married. I said I wasn't so he said he was going to cut off my male organ," a detainee identified only as Mahmoud told Amnesty.
"He beat me hard on my body until I fainted," Mahmoud said. "I regained consciousness after water was splashed onto me, and without warning he applied an electric shock to my testicles. It was so terrible that I cannot describe it."
After a month in detention, a judge told Mahmoud, 20, that he had confessed to taking part in four demonstrations and for that, a lawyer told him he might spend up to five years in prison. He was released pending his trial and fled to Lebanon.
Deserter: "It was like a war against your own people"
Wassim, 21, said a soldier stabbed him in the buttocks with his bayonet. In the hospital, women nurses spit on him and hit him. He recalled one nurse in a white uniform taking off her shoe and hit him on the head so hard that he was bleeding there as well.
"I was taken to a room and there someone poured a bottle of surgical spirit all over my face," Wassim told Amnesty. "I started coughing hard so a nurse wearing a green uniform admonished me, saying, 'You pig, you're pretending that you're unconscious.' "
He was then blindfolded. He could feel people tapping hot cigarette ash on his forehead. He was left for a day with his wounds after which he was stitched up without anesthesia. "You want freedom, eh?" they said.
He was taken to a detention facility in Homs and beaten on his wounds and the soles of his feet. He was accused of being a spy. He was released in June after putting thumbprints on documents he had not read.
Both Mahmoud and Wassim told Amnesty separately about another man they say at the detention facility in Homs, Walid, who was tortured with a heated skewer to his testicles. Walid wailed in pain. "I beg you, no, please," he said, according to Wassim.
Amnesty documented the deaths of nine men in custody. Their bodies bore signs of torture.
Among the report's findings:
-- Syrian forces fired on fleeing families heading towards the Lebanese border. Among the injured were a 35-year-old woman and a 7-year-old girl named Munira, whose twin brother was also hurt.
-- Syrian forces damaged Tal Kalakh's main water tank and the army shelled the town with heavy artillery all day May 15 and on the morning of May 16. Soldiers looted and vandalized houses.
-- On May 16, 17 and 18, Syrian troops carried out house-to-house searches in Tal Kalakh and arrested scores of men. They were as young as 18 and older than 60. Troops intercepted fleeing families on the only accessible route leading out of Tal Kalakh, separating the men from the women, and then arrested some of the men. "Every family from Tal Kalakh that Amnesty International met in Lebanon had at least one relative in detention," the report said.
-- Many people were beaten, abused and tortured. Those interviewed said victims were punched, slapped. kicked and hit with rifle butts, twisted wires and batons. After they were arrested, men were blindfolded and their hands tied. On one occasion, soldiers counted detainees by stabbing lit cigarettes on their necks.
-- Ali al-Basha, 24, was shot by snipers. Later an ambulance carrying his body came under fire. At least five bullet holes could be seen one one side of the ambulance, according to a video obtained by Amnesty.
-- The relatives of victims were ill-treated. An officer at a military hospital told a father that his dead son was "a pig who suffocated."
Amnesty has documented violations of human rights in Syria before, including the killings and torture of people in a 1982 revolt in the city of Hama. It said the latest violations may constitute crimes against humanity.
"This is because they appear to be part of a widespread, as well as systematic, attack against the civilian population involving multiple commission of a range of crimes against a multiplicity of victims in an organized manner and pursuant to a state policy to commit such an attack," the report said.
In particular,the report cited the burning or application of electric shocks to prisoners' genitals is "part of torture as a crime against humanity" and could "also qualify as a crime against humanity of enforced sterilization."
Human Rights Watch documented similar deaths and violations in the city of Homs in a July 2 report.
The Amnesty report urged Syrian authorities to cooperate with the United National High Commissioner for Human Rights and allow unimpeded access to investigate alleged human rights violations.
It said the U.N. Security council should refer Syria to the prosecutor of the International Criminal Court in The Hague, Netherlands, impose an arms embargo and freeze the assets of al-Assad and his circle.
Nasser called the situation in Syria terribly sad. In trying to win greater freedoms, she said, the Syrian people have suffered so much.
FOLLOW THIS TOPIC