3 U.S. troop deaths in Iraq lead to highest toll in 3 years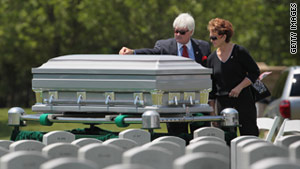 Mourners pay respects at the funeral of Pfc. Michael Olivieri, who was among 14 U.S. troops to die in Iraq combat in June.
STORY HIGHLIGHTS
The three U.S. service members died in southern Iraq
Fourteen troops were killed in combat in June
In June 2008, 23 were killed
Baghdad (CNN) -- Three more U.S. service members were killed in Iraq, making June the deadliest month for American troops in combat since 2008.
A total of 14 troops have been killed in combat this month, and another service member died in a noncombat-related incident. This was the highest number of combat deaths since June 2008, when 23 U.S. service members were killed.
Home and Away: Iraq and Afghanistan war casualties

Fatalities in Iraq have dropped dramatically in recent years for American troops. The latest deaths came Wednesday, just six months before all U.S. service members are scheduled to depart the country under a bilateral agreement forged between both nations.
U.S. general: Security situation in Iraq 'remains complex
The service members died in a rocket attack near the Iranian border in southern Iraq. A U.S. official told CNN that the attack has every indication of being conducted by an Iranian-backed Shiite militia.
U.S. military blames Shiite militia in Iraq for killing of 5 soldiers
An increase in attacks in recent months against American troops has been blamed on Shiite militias.
Cleric thanks followers for pledging to attack U.S. in Iraq
Iraq is weighing whether to request that some of the 47,000 troops in Iraq stay beyond the January 1, 2012, deadline.
CNN's Jomana Karadsheh contributed to this report.
FOLLOW THIS TOPIC