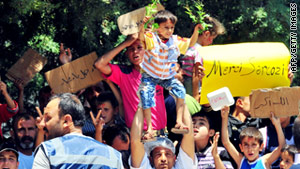 Syrian refugees chant slogans during a demonstration at a Turkish Red Crescent camp near the Syrian border.
STORY HIGHLIGHTS
NEW: Clinton says the United States "chooses to stand with the Syrian people"
The United States is collecting information on Syria's crackdown on opposition protesters
Officials are looking into whether referrals to the ICC are appropriate
The comments come as the Obama administration faces criticism over response to unrest
Washington (CNN) -- The United States is collecting information on possible war crimes by Syrian security forces amid a violent crackdown on opposition protesters, a senior Obama administration official said Friday.
In a telephone briefing with reporters, the official said the United States is "looking into ... whether there are grounds here for charges related to war crimes," and whether referrals to the International Criminal Court may be appropriate.
The comments come as the White House faces pressure from critics who say the Obama administration has been slow to respond to the Syrian government's violence against pro-democracy demonstrators.
The official also said that the United States is considering further economic pressure on the Syrian government, including sanctions on the country's oil-and-gas sector.
Meanwhile, the Obama administration is lobbying members of the U.N. Security Council to support a resolution on Syria that, as another administration official put it, "would send a strong message to President Assad."
"One wants to be able to make sure you have all of the five permanent members of the Security Council on board for a resolution," the official said, "and you want to make sure that you have at least the largest number of 'Yes' votes that you can. And so there's just ongoing consultations in New York to make sure that we can have the broadest-based support of the Security Council."
Secretary of State Hillary Clinton spoke by phone with Russian Foreign Minister Sergey Lavrov on Friday, but State Department spokeswoman Victoria Nuland gave no details, saying only "it was a good conversation."

Professor: Syria situation 'fluid'

Misery at refugee camp in Syria
Clinton, so far, has not spoken with China which, like Russia, is believed to be reluctant to support any U.N. resolution.
Critics have argued that the administration is pulling its punches on Syria, in contrast to its quick action at the U.N. Security Council to pass a resolution authorizing the use of force to protect peaceful Libyan protesters from attacks by forces loyal to Moammar Gadhafi.
"I agree that in a perfect world we should be moving faster, that this is going slowly," one administration official said.
But, the official added, "we're actively building a broad-based approach with our partners bilaterally, multilaterally, regionally, internationally in order to make sure that we're all moving ahead in a sensible way that backs the Syrian people themselves."
In an editorial entitled, "There Is No Going Back in Syria," Clinton said that nearly 1,300 Syrians have been killed since protests began and thousands more have been jailed.
"It is increasingly clear that President Assad has made his choice," she wrote in the Asharq Al-Awsat newspaper, which describes itself as a pan-Arab newspaper. "But while continued brutality may allow him to delay the change that is under way in Syria, it will not reverse it."
The United States "chooses to stand with the Syrian people and their universal rights," Clinton said. "We condemn the Assad regime's disregard for the will of its citizens and Iran's insidious interference."
U.S. officials say the situation in Syria differs greatly from the situation in Libya.
"There hasn't been a galvanizing effect, such as Gadhafi's threat ... to basically raze Benghazi to the ground," the official told reporters. "But there, nevertheless, is an appalling, appalling amount of violence and death that you see us, the international community, responding to and ... we're working with our partners to make sure that the response is as effective as possible."
The Syrian government, the official added, "seems to be trying to reach out" to members of the opposition. The opposition, however, still fears arrest and others are in hiding.
"You cannot do sort of dialogue negotiation while you try to reach out on the one hand but you still are injecting fear -- fear of arrest, fear of violence -- on the other hand," the official said.
FOLLOW THIS TOPIC