Syrian crackdown 'revolting,' State Department spokeswoman says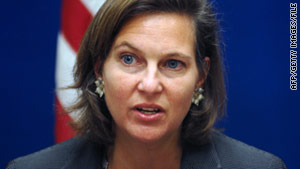 Victoria Nuland, the State Department's spokeswoman, says Syrian President Bashar al-Assad is pouring "gasoline on the fire for change."
STORY HIGHLIGHTS
Spokeswoman: "Repression has only served to pour gasoline on the fire for change."
Former spokesman: The administration should "be on the right side of history"
Spokeswoman Nuland urges Russia and China to back U.N. action against Syria
Washington (CNN) -- The State Department's new spokeswoman, Victoria Nuland, lashed out at Syrian President Bashar al-Assad on Thursday, calling the Syrian government's repression of its citizens "revolting" and charging that Assad's "repression has only served to pour gasoline on the fire for change."
Nuland, however, stopped short of calling on Assad to leave office.
"Several weeks ago President Obama, echoed repeatedly by the secretary (of state), gave Assad a choice: reform or get out of the way. ... It increasingly looks like he has made his choice, and he has made his choice in the negative and that's very distressing."
The Obama administration is under increasing pressure from critics who say it is pulling its punches on Syria and Assad, failing to rally the international community to take action as it did with Libya and similar repression by Libyan strongman Muammar Gadhafi.
In an interview with CNN, former State Department spokesman P.J. Crowley urged the administration to "be on the right side of history."
"Once the president made a very bold statement, saying that Gadhafi had lost his legitimacy by threatening and carrying out attacks against his people. We have to be seen as carefully and consistently applying that same policy in other contexts," Crowley said. "So if Gadhafi has lost his legitimacy, in my view Bashar al-Assad has as well, and it's time for the United States to say so thoroughly."
Nuland told reporters the United States is increasing contacts with the Syrian opposition both within the country and outside of it.
"Syrians from all walks of life," she said, "from all professions, are starting to come together and demand their rights. So we are interested in supporting them. We are interested in supporting that struggle."
A major impediment to international action on Syria is the reluctance of Russia and China to sanction steps against the Syrian leadership. The two countries still are smarting over NATO military action against the Libyan government forces, which they charge exceeds the United Nation's mandate to protect Libyan citizens by targeting Gadhafi directly.
Nuland, in an appeal to both countries, said the attacks on civilians and flows of refugees from Syria should move them to do something: "I would simply say to Russia and China, they are presumably seeing the same pictures that we are seeing, and we hope they increasingly draw the conclusion that it is time for U.N. action."