3 Iraqi government officials assassinated Thursday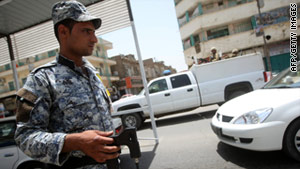 An Iraqi policeman in Baghdad holds a device that checks for explosives. Attacks in recent months have left dozens dead.
STORY HIGHLIGHTS
These are the latest victims in a series of such attacks in recent months
A judge and a police commissioner are among the dead
The prime minister must decide whether to ask U.S. troops to remain after year's end
Baghdad, Iraq (CNN) -- Three government officials were among four people killed Thursday in separate attacks in Baghdad, Iraqi Interior Ministry officials told CNN.
They are the latest victims of attacks that, during recent months, have left dozens of government officials dead, killed by gunmen using pistols equipped with silencers or blasted by so-called sticky bombs -- explosive devices attached to the undercarriages of the victims' vehicles.
Basim Taher, a judge at a civic court in al-Bayaa, was fatally shot while he was driving toward his home in western Baghdad's al-Adil neighborhood.
In the al-Taji area of northern Baghdad, Jalal Jassim Mohammed, the director general of al-Nasr State Company for Mechanical Industries, was fatally shot while driving near the company.
In the al-Autaifiya neighborhood of western Baghdad, gunmen shot dead a police commissioner as he was driving near his house.
In the al-Binook neighborhood of northeastern Baghdad, a man was killed when a bomb attached to his car exploded as he was driving near his house, the officials said.
The assassinations have led some government officials to take some precautionary measures like changing the type or color of their cars or changing their routes home, three government officials told CNN. They spoke on condition of anonymity for security concerns.
Separately, in the al-Ghadeer neighborhood of eastern Baghdad, an improvised explosive device planted outside a liquor store detonated early Thursday, damaging the store, which had not opened for the day, Ministry of Interior officials said.
And in the al-Kharkh area of central Baghdad, a roadside bomb exploded near a coffee shop and wounded two people, the officials said.
The attacks come as Prime Minister Nuri al-Maliki must decide whether to ask U.S. military forces to remain in Iraq beyond the year-end withdrawal deadline.
Meanwhile, Iraqi ministers led by al-Maliki convened Thursday for a second consecutive day in a four-hour session broadcast live on television to review the ministers' work over the past 100 days.
On February 27, al-Maliki gave government ministers 100 days to eliminate corruption or be fired. The announcement followed weeks of demonstrations across the country by protesters angry about unemployment, poor basic services, corruption and a lack of freedom.
"Changes will be made based on these assessments," al-Maliki vowed.
Since early February, tens of thousands of Iraqis. apparently inspired by popular uprisings in Egypt and Tunisia. have participated in a series of protests across the country. Some of the demonstrations erupted in violence, resulting in the deaths of dozens of Iraqis.
FOLLOW THIS TOPIC