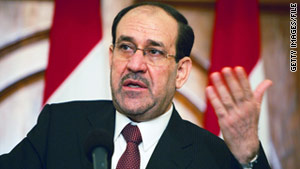 Iraqi Prime Minister Nuri al-Maliki has set a Monday deadline for Cabinet ministers to make reforms or be fired.
STORY HIGHLIGHTS
NEW: Baghdad resident "Bad feeling" preceded 100-day reform deadline
At least 25 people have died in attacks across Iraq, U.S. and Iraqi officials confirm
The deadliest attack was in Tikrit, where at least 11 people died, Interior Ministry officials said
The attacks coincide with a deadline for government officials to make reforms
Baghdad (CNN) -- At least 25 people, including five U.S. soldiers, have died in a series of explosions across Iraq on Monday, U.S. and Iraqi officials said.
The deadliest attack Monday was in Tikrit, where a suicide bomber rammed a vehicle packed with explosives into a security checkpoint staffed by Iraqi army and police, killing 11 people and wounding 17 others, according to Interior Ministry officials who declined to be identified because they were not authorized to speak to the media.
Most of the casualties were Iraqi security forces, Interior Ministry officials told CNN.
The attack occurred at the gates of a fortified compound housing a mosque and several palaces that once belonged to Saddam Hussein. On Friday, attacks at the compound's mosque and at a Tikrit hospital killed 23 people and wounded 60.
Tikrit was Hussein's hometown and is the capital of the mainly Sunni Arab Salaheddin province.
The U.S. soldiers died in an attack on Foward Operating Base Loyalty in Baghdad. Interior Ministry officials said the soldiers who died were sleeping in their trailers when the attack occurred.

At least 5 U.S. troops killed in Iraq
The attacks coincide with the deadline set by Iraqi Prime Minister Nuri al-Maliki for cabinet ministers to make reforms or be fired in the wake of deadly February demonstrations over corruption, poor government services and a lack of personal freedoms.
"Yesterday, I was listening to the news about the 100-day deadline and I had a bad feeling about it, and today we've been hearing the sounds of explosions since this morning," said Ahmed Mousa, whose mother and sister were wounded when a car bomb exploded outside his home in the Palestine commercial district of eastern Baghdad. The explosion killed one person and wounded 10 others.
"We don't know who's behind these attacks but we blame our government, because it's their job to protect us" Mousa said.
In other attacks, according to information provided by Interior Ministry officials:
-- Four relatives of an Iraqi police officer died and two others were wounded after insurgents exploded bombs they planted around his home.
-- In Baghdad, two separate roadside bombs exploded in the city, wounding eight people, three of them police officers.
-- In the Adhamiya Sunni neighborhood of northeastern Baghdad, gunmen attacked three separate security checkpoints, killing an Iraqi soldier and three members of a predominantly Sunni movement composed of former insurgents or sympathizers who have turned against al Qaeda.
It is unclear whether the violence has any direct connection to al-Maliki's deadline to cabinet ministers to make reforms or be fired.
Al-Maliki announced the reform campaign on February 27, after an emergency cabinet meeting that followed weeks of demonstrations across the country by protesters angry about unemployment, poor basic services, corruption and a lack of freedom.
Scores of Iraqis were killed and wounded in the protests, which appeared to be inspired by popular uprisings in Egypt and Tunisia.
The latest violence raise questions over the ability of Iraqi forces to secure the country, with almost all U.S. troops due to withdraw at the end of the year under the terms of a bilateral security pact.
But if violence increases and instability persists, the countries could agree to keep some U.S. troops in Iraq, where about 46,000 U.S. military personnel are currently based. That is down from a high of 170,000 in 2007, during the peak of the sectarian violence the country.
FOLLOW THIS TOPIC