Boehner meets with Iraqi prime minister in Baghdad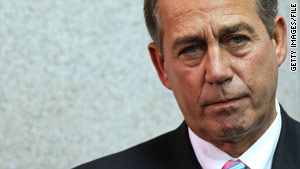 John Boehner's visit to Iraq is his first since being elected speaker of the House.
STORY HIGHLIGHTS
Boehner and other U.S. officials discuss bilateral relations with Iraq
It's the first visit to Iraq for Boehner since being elected speaker of the House
Boehner expresses support for the political process in Iraq
Baghdad (CNN) -- U.S. House Speaker John Boehner met with Iraqi Prime Minister Nuri al-Maliki on Saturday during a surprise visit to Baghdad, the prime minister's office said in a statement.
Boehner, along with other members of Congress and Assistant U.S. Secretary of State Jeffrey Feltman, met at al-Maliki's office to discuss bilateral relations and the future of strategic cooperation between the two countries.
Al-Maliki stressed the need to strengthen bilateral cooperation between the United States and Iraq, particularly in the fields of trade, culture and defense, according to his office.
Al-Maliki also noted in the meeting that Iraqi security forces and army are taking responsibility to preserve security, adding that Iraq is looking forward to future cooperation with the United States in arms and other military training.
Although the U.S. combat mission in Iraq officially ended last year, about 50,000 American troops are expected to remain in the country until the end of 2011 to train, assist and advise Iraqi troops.
Boehner, for his part, expressed his country's desire to continue to support the political process in Iraq, al-Maliki's office said. The Iraqi government was formed in December, nine months after an inconclusive national election. It's the second elected government in the nearly eight years since a U.S.-led invasion toppled Saddam Hussein.
Saturday's visit was Boehner's first visit to Iraq since being elected speaker of the House following November's mid-term elections.
FOLLOW THIS TOPIC