Israeli investigation to look into allegations against Netanyahu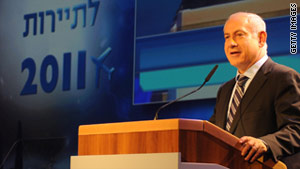 Benjamin Netanyahu called the reports an "orchestrated smear campaign."
STORY HIGHLIGHTS
The Israeli state comptroller announces the probe
Newspaper reports say Netanyahu took overseas trips paid for by private individuals
The papers' information is "libelous and slanderous," Netanyahu says in lawsuits
Jerusalem (CNN) -- Israel's top government watchdog said Thursday that his office will launch a probe into allegations that Prime Minister Benjamin Netanyahu and his wife took several overseas trips paid for by private individuals while he served as a Knesset member.
The announcement from the office of Israel's state comptroller, Micha Lindenstrauss, comes days after controversial Israeli media reports, dubbed the "Bibi-tours" scandal, alleged that Netanyahu and his wife, Sara, developed close relationships with a number of wealthy benefactors and used them to finance private travel for themselves and family, including first-class accommodations and extravagant restaurants.
Netanyahu is known by the nickname Bibi.
In televised remarks Wednesday Netanyahu called the reports an "orchestrated smear campaign" and accused the reporters of trying to force him out of office. On Tuesday Netanyahu filed libel suits against Israeli television broadcaster Channel 10 and the daily Maariv newspaper demanding damages of approximately $300,000 each.
In the suit against Channel 10, Netanyahu claims that the broadcaster knowingly published false material by presenting a document purported to contain a list of contributors to Netanyahu's 2005 election campaign. According to the suit, the network published the document even though Netanyahu made it clear to the reporter that the claim was baseless.
"The defendants did not let the facts confuse them and rushed to publish the libelous and slanderous information ... even though they knew it was without foundation, basing it on an unknown piece of paper they were flashing around that had no connection with the actual contributions that were received" the suit says.
In the suit filed against the Maariv newspaper, Netanyahu accused the paper of printing a false headline that suggested he and his wife had spent $17,000 on a dinner party.
"This false report has no grain of truth; the plaintiff and his wife never held a dinner that came anywhere near to that amount that was stated in the headline," the suit claims.
The suits followed a week of news reports about the Netanyahus' travel practices after his first term as prime minister ended in 1999.
The accounts have detailed what they call Netanyahu's close relationships with wealthy benefactors, and described alleged extensive and extravagant travel by the couple, paid for in many cases, the reports said, by rich Jewish individuals with close ties with the family.
FOLLOW THIS TOPIC