STORY HIGHLIGHTS
Mohammed Bouazizi's self-immolation inspired protests in Tunisia that forced the then-president from power
He set himself on fire after a dispute with the police; he also felt unfairly treated by officials
His self-immolation inspired copy-cat acts of protest in Mauritania, Algeria, Saudi Arabia and Egypt
The world's media now regularly frequents the Bouazizi family home in Sidi Bouazid
(CNN) -- When cousins visit the Bouazizi family's humble cottage, they take turns paying homage to the family's most famous son -- the man credited with kick-starting uprisings around North Africa and the Middle East.
"Kiss the martyr Mohammed," a woman says, as she holds her daughter up to a portrait of the young man, which hangs halfway up an otherwise bare wall. The large poster identifies Mohammed Bouazizi as "the spark of the uprising of dignity." It's not only his family that feels this way.
Several blocks away, another huge portrait of the 26-year old man hangs from the top of a golden monument in the center of Sidi Bouzid, alongside banners proclaiming it is now "Martyr Mohammed Bouazizi Square."
Many Tunisians call Bouazizi a hero for setting himself on fire outside a government building. He is credited with galvanizing ill-feeling against governments across the Middle East and North Africa into actions that has seen demonstrations, uprisings and revolution.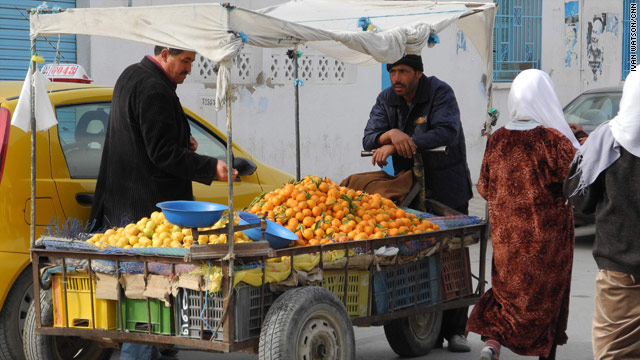 Gallery: Mohamed Bouazizi: Arab martyr
"The man is a symbol for eternity, for all the world," says Tunisian movie director Mohammed Zran, who plans to make a feature film about Bouazizi. "For me he's more important than Mandela or Gandhi or Martin [Luther] King [Jr]. Really. Because with his act we are seeing, watching everywhere revolution... and it's coming from this little town."
High praise for a man who just three months ago, was an unknown street vendor struggling to feed his family by selling fruit. Bouazizi earned the equivalent of barely $10 a day pushing his fruit cart through the streets of his down-on-its-luck Tunisian town.
"These government inspectors used to confiscate our goods and demand bribes," says Bouazizi's uncle Ridha, who also operates a fruit cart in downtown Sidi Bouazid. "It was because of their tyranny that Mohamed set himself on fire."
On the morning of December 17, a female municipal inspector named Faida Hamdy accosted Bouazizi. An altercation erupted during which Hamdy the inspector seized Bouazizi's fruit-weighing scales. Locals and Bouazizi's relatives also say the inspector slapped Bouazizi, an allegation CNN could not independently confirm.
After the incident, the humiliated fruit vendor repeatedly tried and failed to get the attention of town officials. Then something snapped. He purchased fuel, doused himself with it, and lit a lethal flame outside the gates of the governorate building.
Almost immediately, protests erupted in Sidi Bouzid and then quickly spread to other cities and towns across the country. The poor fruit vendor became a symbol of the anger and frustrations of Tunisians fed up with corruption and the authoritarian rule of President Zine el Abedine Ben Ali, who had been in power for 23 years.
This cart is a symbol, it represents freedom. This overthrew the regime.
--Ridha Bouazizi, uncle of Mohammed
Under mounting pressure, Ben Ali visited the hospital bed of the young man from Sidi Bouzid. An eerie photo released by Ben Ali's press office dated December 28 showed the Tunisian leader standing next to Bouazizi. Only the young man's charred and blackened lips showed from underneath bandages which wrapped him from head to toe.
The public display of sympathy was too little, far too late. On January 4, after more than two agonizing weeks in hospital, Bouazizi died from his horrific injuries. Before another two weeks were out, Ben Ali would flee the country.
Bouazizi's self-immolation inspired copy-cat acts of protest in Mauritania, Algeria, Saudi Arabia and Egypt. Meanwhile, Tunisia's startling revolution triggered unprecedented popular revolts that continue to ripple across the Arab world and beyond.
Back in the town where it arguably all started, residents of Sidi Bouzid seek to claim ownership of this historic movement.
Graffiti scrawled across government buildings announce "stand up for your rights" and "glory to the martyrs." Locals passionately argue that Tunisia's revolution should be named after December 17, the day Bouazizi set fire to himself.
And Bouazizi's uncle, the fruit vendor Ridha, has become something of a local celebrity. He waxes poetic before the dozens of journalists who have interviewed him over the past several months.
"This cart is a symbol, it represents freedom," Ridha Bouazizi says, pointing at his wagon loaded with oranges. "This overthrew the regime."
But some of the euphoria of the revolution has given way to the everyday struggle of trying to make a living.
Nearly two months after Ben Ali's overthrow, barbed wire and soldiers continue to guard the governorate. Every morning, scores of people line up to beg for jobs and apply for social support from the town's new leaders.
Inside, Sidi Bouzid's new 36-year-old deputy governor leafs through the scores of job applications that have piled up on his desk in a single morning.
"We need to create more work and jobs and build new factories," says Ali Rahal, a jocular former professor of philosophy, who looks somewhat out of place in his shiny black suit and bright white socks. Rahal says unemployment stood at 33 percent in Sidi Bouzid before the revolution and there is little indication those depressing statistics have improved since then.
I am proud of him, thank God he spoke out. He turned the world upside down. [But] he did not deserve to die.
--Manoubia Bouazizi speaks of her son Mohammed
Among the many jobless men who while away the hours sipping potent shot-glasses of tea and smoking cigarettes near the city center, there is hope that regime change will bring new economic hope.
"I'm very happy with this revolution, but we will have to wait," says 33-year old Zaidi Negi, a university graduate who says he hasn't been able to find a job in the last seven years. "It can't all happen in an instant." It could take two or three years, according to the development of the country.
"By then I'll have to retire from the job of being unemployed," jokes Aziz Bouzidi. At 54, Bouzidi says he doesn't have the luxury to wait around much longer for work.
It was amid this backdrop of economic despair that Mohammed Bouazizi made difficult personal choices for the good of his family.
He began working as a child, says his older brother Salem, who by some bizarre twist of fate, saw his first son Omar born on the same day Mohamed set fire to himself.
"Mohammed was the main bread winner for the family," Salem says. "He dropped out of school even though he had good grades to pay for my sister's education."
Bouazizi's 16-year old sister, Basma, walks home from school down partially paved roads to the tiny, three-room house where the family of seven lives.
These days, the Bouazizi home has become a place of pilgrimage for journalists from around the world. Over a two-day period, at least five teams of reporters and writers, including newspaper journalists from Malaysia, descended on the small house, all determined to learn about the fruit vendor who shook the world.
Bouazizi's mother, Manoubia, tolerates the constant stream of visitors with the patience of a proud, but grieving parent. Until recently, relatives said she supplemented the family's income by working manual labor in farm fields for the equivalent of $3.50 a day.
"I am proud of him, thank God he spoke out," she says, sitting within sight of the now-iconic image of her smiling son. "He turned the world upside down," she adds. "[But] he did not deserve to die."
Bouazizi was buried in a family cemetery, on a plot of land surrounded by rows of cactus. Locals say his coffin was carried by a procession walking more than 10 miles on foot to this isolated spot in the countryside.
His grave is a simple white column of cement and stone. It is almost identical to those of other members of his extended family with the exception of one eye-catching symbol.
A large red-and-white Tunisian flag flutters from a pole at the foot of the grave of the impoverished fruit vendor, whose last desperate act of fiery protest, inspired millions to rise up and demand their rights.
FOLLOW THIS TOPIC