Egyptians approve constitutional changes, clearing way for elections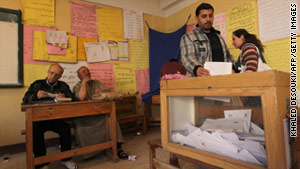 A man votes at a polling station in Mansura, Egypt, on March 19, 2011.
STORY HIGHLIGHTS
NEW: "This is the moment when the Egyptian people step from the old to the new," says U.N. chief
The referendum sets the stage for June parliamentary elections
The amendments limit presidential terms and emergency laws
Opponents argue the changes are not enough
Cairo, Egypt (CNN) -- Egyptian voters overwhelmingly approved proposed constitutional amendments that pave the way for parliamentary elections in June, according to the head of the judicial committee overseeing the referendum.
"We are proud of the Egyptian people for deciding their own destiny," Judge Mahmoud Atiya said Sunday. "We assure the world that the March 19 referendum was fair and transparent at all stages."
Of the 18,366,764 ballots cast Saturday, there were 14,192,577 "yes" votes and 4,174,187 "no" votes, Atiya said.
An estimated 45 million Egyptians were eligible to vote in what was widely viewed as the country's first free election in decades, and the poll sets the stage for parliamentary and presidential elections later this year.
The proposed amendments included limiting the president to two four-year terms, capping emergency laws to six months unless they are extended by public referendum, and placing elections under judicial oversight.
Opponents said the amendments were rushed and fall short of the people's demands. Many have demanded a new constitution and claimed an early referendum would give an unfair edge to the Muslim Brotherhood and remnants of Mubarak's National Democratic Party -- well entrenched and politically savvy groups that are better prepared to mobilize voters than newer factions still scrambling to get organized.
But Amre Moussa, presidential candidate and secretary-general of the Arab League, who urged a "no" vote, lauded the referendum as "the first official step towards the democracy called for in the January 25 movements."
"'Yes' or 'no' is not the issue -- that Egyptians are participating and voting today is what's important," he said Saturday.
Atiya told CNN that the next step in the transition to a civilian government is for the military to move forward with parliamentary elections in June.
If the measures had been voted down, the military would have gone back to the drawing board, Atiya said.
United Nations Secretary-General Ban Ki-moon visited Egypt, just one day after the vote, where he met with the country's foreign minister.
"This is the moment when the Egyptian people step from the old to the new," he told reporters, according to remarks distributed by his office.
"Egypt's success will be first and foremost for Egyptians to decide and share, but, given the country's standing in the world, a successful transition can inspire the rest of the Arab world," Ban said.