Israeli official: Netanyahu may seek interim accord with Palestinians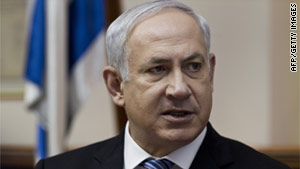 Israeli Prime Minister Benjamin Netanyahu wants to move stalled peace process forward.
STORY HIGHLIGHTS
Israeli prime minister considering pursuing interim agreement
He may not try to resolve all core issues at the same time
Palestinians say they won't negotiate until Israel stops settlement construction
Jersusalem (CNN) -- Israeli Prime Minister Benjamin Netanyahu is considering a diplomatic initiative that will seek an interim agreement with the Palestinians rather than one that resolves all core issues, an Israeli government official said Tuesday.
The official, who was not authorized to speak publicly on the issue, said that the latest instability in the region, including the departure of Egypt's Hosni Mubarak, has caused Netanyahu to try to move the stalled process forward.
"Of course, Israel would prefer final status peace agreement, but that has become all but impossible because of the Palestinian refusal to negotiate," the government official said. "We are looking at options for steps forward that will help lead to a two-state solution and move the process forward."
The core issues in Israeli-Palestinian negotiations are considered to be the status of Jerusalem, borders and refugees.
American-sponsored talks between Israelis and Palestinians fell apart in September when Israel resumed settlement construction in the occupied West Bank after a 10-month freeze.
Palestinians have indicated they will not resume talks until all Israeli settlement construction in the West Bank and East Jerusalem is frozen. In the interim, Palestinians have been pursuing a strategy of winning international recognition of a Palestinian state based on border lines that existed before 1967 -- a process neither the United States nor Israel supports.
Palestinians want East Jerusalem to be the capital of a future Palestinian state. Israel, which annexed the eastern part of Jerusalem in 1967, considers the entire city to be its sovereign capital, a claim not recognized by many in the international community.
The Obama administration and Netanyahu have been at odds over plans for construction in disputed areas of Jerusalem.