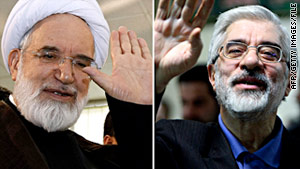 Iranian opposition leaders Mehdi Karrubi, left, and Mir Hossein Moussavi are the subject of arrest rumors.
STORY HIGHLIGHTS
Demonstrations were called by supporters of two opposition leaders
They were called after reports of the leaders' arrests
Iran has denied that Moussavi and Karrubi were imprisoned
Are you participating in the demonstrations? Share your stories, photos and video with CNN. Please make personal safety your first priority.
Tehran, Iran (CNN) -- Tehran residents reported pockets of protests and clashes with security forces Tuesday on the streets of the Iranian capital.
But protesters appeared, by all accounts, to be heavily outmuscled by police, who showed in force in Tehran's squares and major thoroughfares in anticipation of demonstrations called by supporters of two key opposition leaders.
The Iranian opposition website Kaleme reported that security forces fired tear gas into a crowd of protesters in front of Tehran University. It described the surrounding streets as being very congested.
Witnesses reported more clashes along Azadi Avenue, where protesters were chanting "death to the dictator" and "Khamenei is a murderer. His authority is void."
Plainclothes security forces detained three protesters and took them away on motorbikes at Mozafar and Revolution avenues, one witness said.

Clinton outraged at Libya, Iran
One resident said there were so many police patrolling Tehran that the city resembled a military base.
International journalists are restricted from covering demonstrations in Iran, making it difficult for CNN to obtain information.
Tuesday's demonstrations were sparked by reports that opposition leaders Mir Hossein Moussavi and Mehdi Karrubi had been imprisoned.
Kaleme, citing "trusted sources," said Monday that the men and their wives had been arrested and taken to Tehran's Heshmatieh prison. Iranian authorities denied the report.
The semiofficial Fars News Agency cited an unidentified source within Iran's judiciary who said both men were inside their homes "and the only restrictions placed on them are contacts with suspicious elements."
Another Iranian source gave a similar account, telling CNN the report of the men's imprisonment was false.
The conflicting reports came shortly after Fars reported that the government had restricted the movements and communication of two opposition leaders, who were not named.
Over the weekend, before the fate of the opposition leaders was known, the International Campaign for Human Rights in Iran expressed concern for the safety of Moussavi and Karrubi.
"Moussavi and Karrubi and their wives have been disappeared; they are being held incommunicado in an unknown location, a severe breach of Iranian and international law," Aaron Rhodes, a spokesman for the human rights group, said in a statement.
"Given the lynch mob-like calls for their execution by numerous Iranian politicians and clerics, there is reason to be deeply concerned for their safety and well-being," Rhodes said.
In February, state-run Press TV aired video of Iranian lawmakers chanting, "Moussavi, Karrubi ... execute them."
Last month, Iranian authorities began rounding up a number of government opponents amid calls for protests like those that have swept across North Africa and the Middle East.
Iranian government leaders have praised the revolution that overthrew Egyptian President Hosni Mubarak, but when protesters took to the streets of Tehran on February 14, the government cracked down hard.
The Iranian government rounded up activists ahead of the protests after Karrubi and Moussavi called for supporters to gather at Azadi Square -- the site of mass protests by Iran's opposition movement after the disputed 2009 presidential elections.
Despite the security crackdown, tens of thousands of demonstrators marched in Tehran. Dozens of demonstrators were detained during those protests, while videos posted on YouTube showed others had been chased and beaten.
Two people were killed during the protests, according to Fars. Several others were seriously wounded as a result of the gunfire, which the Iranian government blamed on "agitators and seditionists."
During the protests in February, foreign journalists were denied visas, accredited journalists living in the country were restricted from covering the demonstrations, and internet speeds were slowed to a crawl in an apparent attempt to restrict information being transmitted abroad.
CNN's Reza Sayah contributed to this report
FOLLOW THIS TOPIC