Protesters fill Cairo square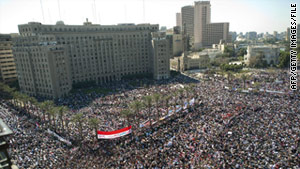 Cairo's Tahrir Square has been the epicenter of Egypt's uprising, as it was for this February 18 gathering.
STORY HIGHLIGHTS
Demonstrators once again take to the streets in Cairo's Tahrir Square
They want Egypt's military rulers to follow through on promised reforms
Some also show support for opponents of the government in Libya
Cairo, Egypt (CNN) -- Several thousand people protested in Cairo's Tahrir Square on Friday to urge Egypt's new rulers to implement reforms.
The demonstrators Friday asked Egypt's military rulers to follow through on promised changes. They pressed Egypt's Supreme Council to end an emergency law and release political prisoners, among other things. They also pressed for civilian representation in the government.
Generals took power in Egypt after an uprising prompted Hosni Mubarak to resign as president. The generals have said they plan to transfer power to a civilian government after elections this year.
The protests in Cairo unfolded in Tahrir Square, which was the site of massive demonstrations against Mubarak's rule.
Some carried signs in support of an uprising in Libya, where opponents of Moammar Gadhafi have taken control of much of the eastern part of the country.
FOLLOW THIS TOPIC


Part of complete coverage on

Pro-Mubarak supporters believe Egypt's former president is innocent of charges of corruption and killing protesters.

Fighting in Libya started with anti-government demonstrations in February and escalated into a nationwide civil war.

After months of seeming stalemate, Libyan rebels declared they were moving in on Tripoli. But who are they?

Six months and more than 17,000 air sorties after it began, NATO's Operation Unified Protector in the skies over Libya grinds on.

Click on countries in CNN's interactive map to see the roots of their unrest and where things stand today.

Are you in the Middle East or North Africa? Send iReport your images. Don't do anything that could put you at risk.

Behind the official smiles for the cameras some people in Libya's capital are waiting for the rebels, reports CNN's Ivan Watson.

Tunisia's Mohamed Bouazizi not only ignited a series of revolts but heralded the first appearance of Arab youth on the stage of modern history.


Most popular stories right now