Jordan's king calls for 'real and quick reform'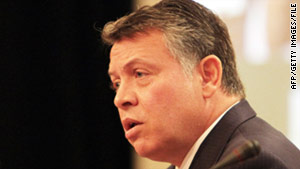 Jordan's King Abdullah II has promised to root out corruption and give lawmakers a bigger role in government.
STORY HIGHLIGHTS
"Reform is our unwavering will," Abdullah says
The Jordanian monarch says he wants greater participation in government
He also called for economic reforms to produce jobs
(CNN) -- Jordan's King Abdullah II told his new government to enact "real and quick reform" Sunday amid growing protests around the Middle East, promising to root out corruption and give lawmakers a bigger role in government.
"We need hard work, and we need a continuous process of assessment and evaluation to correct errors and failures," Abdullah said after meeting with new government ministers, members of parliament and judges. But he added, "Reform is our unwavering will."
"When I say reform, I want real and quick reform," he said. "Because without genuine reforms, the situation will remain as it was, when many officials wasted opportunities because of reluctance to move forward and fear of change."
Abdullah said efforts to reshape Jordan's government were already under way before the revolts that toppled longtime Arab autocracies in Egypt and Tunisia and have since spread to other countries in the region. But he conceded that some officials had "retreated before people with private agendas who resisted reform to guard their own interests."
"I will not allow that to happen again," he vowed.
Abdullah swore in a new government February 9, with former general Marouf al Bakhit as prime minister and several opposition and media figures among its ranks. The king said Sunday that he wants political reforms that will give elected representatives and the public more influence in decision-making, with governments eventually "formed by parties and on the basis of the clear programs that these parties will present."
"We also want economic reform that improves people's standards of living, ensures justice and creates jobs and opportunities for our youth, who will endure all difficulties if they are confident that they are moving towards a better future," he said.
Like other countries in the region, Jordan's economy has been hit hard by the global economic downturn, and youth unemployment is high. Friday, clashes between pro- and anti-government demonstrators who called for abolishing the peace treaty between Jordan and Israel left several people injured, witnesses reported.
Abdullah said the situation in Jordan is "much brighter than it is depicted by some."
"Thank God, no one in this country has disappeared and not a single drop of blood has been shed for reasons related to politics or opinion, as the situation is in some countries," he said. But he added, "I want to make it clear to everyone that I will not allow, nor will Jordanians allow, anybody to spread division or harm the country's stability and achievements or the unity and cohesion of our people."
FOLLOW THIS TOPIC


Part of complete coverage on

Pro-Mubarak supporters believe Egypt's former president is innocent of charges of corruption and killing protesters.

Fighting in Libya started with anti-government demonstrations in February and escalated into a nationwide civil war.

After months of seeming stalemate, Libyan rebels declared they were moving in on Tripoli. But who are they?

Six months and more than 17,000 air sorties after it began, NATO's Operation Unified Protector in the skies over Libya grinds on.

Click on countries in CNN's interactive map to see the roots of their unrest and where things stand today.

Are you in the Middle East or North Africa? Send iReport your images. Don't do anything that could put you at risk.

Behind the official smiles for the cameras some people in Libya's capital are waiting for the rebels, reports CNN's Ivan Watson.

Tunisia's Mohamed Bouazizi not only ignited a series of revolts but heralded the first appearance of Arab youth on the stage of modern history.


Most popular stories right now