Report: Egyptian police officers arrested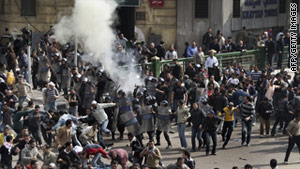 Riot police disperse crowds in Tahrir Square on January 28, 2011.
STORY HIGHLIGHTS
Authorities are investigating whether the officers fired live rounds at protesters
The alleged incident occurred January 28 in Alexandria
(CNN) -- Three police officers in Alexandria, Egypt, have been arrested, and authorities are investigating whether they fired live bullets at demonstrators in late January, a state news website reported Sunday.
The alleged incident occurred on January 28, the EgyNews website reported.
Adel Amara, attorney general of prosecutions in east Alexandria, issued an arrest warrant for the officers, the report said. The warrant was issued after a number of victims' family members and eyewitnesses reported the three fired live bullets at demonstrators during the so-called "Friday of Anger."
Egyptian President Hosni Mubarak stepped down February 11 after 18 days of protests in Egypt, in cities including Alexandria.