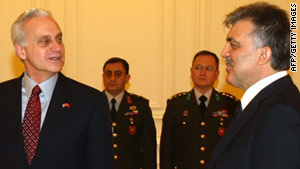 U.S. Ambassador Francis Ricciardone, left, is greeted by Turkish President Abudullah Gul in Ankara on Thursday.
STORY HIGHLIGHTS
Arrests raise questions for U.S. ambassador
Turkish officials say he is meddling
Press freedom groups say they are concerned
Istanbul, Turkey (CNN) -- Turkish authorities on Friday announced the formal arrest of three journalists from a dissident website that is harshly critical of the Turkish government -- following several days of detention and interrogation.
The reporters from the online news website Oda TV have been linked to Ergenekon, an alleged plot to overthrow the government that has been under investigation since 2007.
The police raid on the homes and offices of Oda TV employees this month triggered a spat between the Turkish government and the newly appointed U.S. ambassador to Ankara.
On Tuesday, Ambassador Francis Ricciardone questioned Turkey's approach to the media, telling journalists, "On the one hand there exists a stated policy of support for a free press. On the other hand, journalists are put under detention. We are trying to make sense of this."
Senior Turkish government officials fired back, accusing the American diplomat of meddling in Turkish domestic affairs.
"We believe that it is not right for an ambassador to pass judgment over an ongoing criminal investigation," said Ahmet Davutoglu, Turkey's foreign minister, during a visit to Nepal on Thursday. "The issue is not about the freedom of press."
But the government of prime minister Recep Tayyip Erdogan and the ruling AKP (Justice and Development Party) has come under mounting criticism from Turkish and international press freedoms associations concerned about increasing intimidation of journalists.
"There are over 50 journalists in prison currently, another 100 are facing the same threat and there are about 2,000 cases involving journalists and media organizations," said Dogan Tilic, a spokesman for Turkey's Freedom to Journalists Platform. "The more the AKP consolidates its power, the more intolerant it becomes. I see a direct link between the AKP's consolidation of its power and press freedom."
In a 2010 report, the European Commission accused Turkey of "not sufficiently guarantee(ing) freedom of expression."
In an interview with CNN, a lawyer for Soner Yalcin, one of the arrested Oda TV journalists, said the police interrogation was not focused on alleged links to the Ergenekon coup plot.
"Mostly, he (Soner Yalcin) was asked about his relations to the CHP (the opposition Republican People's Party) and about the TV station he was going to launch," said defense attorney Feza Yalcin. "He was asked about his calls to other journalists regarding the TV station. He was questioned about the stories he did, why he did them."
Colleagues and friends say Yalcin, a well-known Turkish secular writer and outspoken critic of the Erdogan government, was finalizing plans to launch a TV channel when police raided his home and office.
Two of Yalcin's employees, editors Baris Pehlivan and Baris Terkoglu, have also been arrested "within the framework of the Ergenekon investigation," reported Turkey's semi-official Anatolian Agency.
Prosecutors and police first started making arrests as part of an investigation into the alleged Ergenekon coup plot in 2007, the same year the Oda TV website was launched. Hundreds of suspects have since been detained, including scores of military officers, businessmen, academics and journalists. Many of the suspects are still awaiting trial.
"We have concerns that during this endless investigation there are attempts to eliminate all opposition, everyone who thinks differently," said Tilic, of the Freedom to Journalists Platform. "Journalists in Turkey are worried in general that their phones are tapped, that they are being watched and that something can happen to them anytime."
Turkey's interior minister stepped out on Thursday in defense of his government's record. "With regard to press freedom, it's much better in Turkey than in the United States," said Besir Atalay, in a statement to reporters that was widely quoted in Turkish newspapers.
FOLLOW THIS TOPIC