Egypt jails former ministers in corruption probe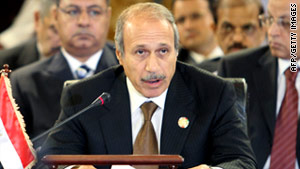 Former Interior Minister Habib al-Adly has been questioned regarding claims of profiteering and money-laundering.
STORY HIGHLIGHTS
NEW: The ex-officials have been jailed for 15 days while under investigation
A top official of the ruling party under Mubarak also is on the list, news agency says
Government has asked U.S. to freeze assets of some officials
Cairo, Egypt (CNN) -- Egyptian prosecutors have jailed a former ruling party official and three ministers from deposed strongman Hosni Mubarak's government, including its onetime interior minister, as part of a corruption investigation, state news outlets reported Thursday.
All four have been ordered held for 15 days while prosecutors conduct their investigation, the state-run EgyNews.net reported. Those arrested include ex-Interior Minister Habib al-Adly, whose agency was responsible for Egyptian police and paramilitary security forces.
Complaints about police corruption and abuses were among the top grievances of demonstrators who forced Mubarak from office last week. Al-Adly has been questioned regarding allegations of profiteering and money-laundering, but further charges are possible, EgyNews reported.
Also arrested were Ahmed Izz, the former secretary for organizational affairs of the National Democratic Party; former Housing Minister Ahmed Maghrabi; and former Tourism Minister Zuhair Garana, according to Egypt's official Middle East News Agency. All three are suspected of corruption and wasting public funds.
According to EgyNews, Izz has been questioned about how he obtained, against established rules, licenses for the establishment of two factories in the free zone in Suez for the production of billet and steel. Maghrabi has been questioned about the allocation of 113 acres in an upscale Cairo suburb to a company with which he had ties, and Garana is under investigation for trying to steer licenses to business associates.
"The defendants mentioned above were present along with their lawyers, and the prosecution has ensured them all the guarantees prescribed by law, and ordered the investigations in all of these cases as well as other charges that they will face later as soon as possible after the completion of the current investigations," EgyNews reported.
Since Mubarak's ouster on February 11, Egypt's general prosecutor has banned several other officials -- including former Prime Minister Ahmed Nazif -- and two businessmen and their families from traveling. The assets also were frozen.
The post-Mubarak government also has asked the United States to freeze the financial assets of some officials from that country, a senior Obama administration official said Monday.
A military council led by Defense Minister Mohammed Tantawi took power from Mubarak and has pushed Egyptians to return to work. But protests have continued as bank employees, factory workers and police, among others, have demanded better pay and working conditions.
Egypt's banks and stock exchange have been shuttered since striking staffers forced the resignation of the national bank's chairman on Sunday. Once trading resumes, Cairo's stock exchange will freeze transactions from former ministers and business leaders who are under investigation, exchange chairman Khaled Serri Siyam announced.
The generals have dissolved parliament and suspended the constitution, promising to run the country for six months or until new elections are held. Wednesday, they announced the formation of a committee to draft constitutional reforms with a goal of putting them before voters within two months.
CNN's Saad Abedine contributed to this report.
FOLLOW THIS TOPIC