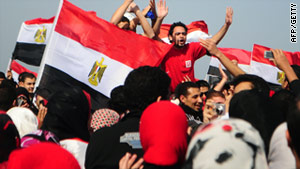 Celebrations and further small demonstrations have taken place in towns and cities across Egypt.
STORY HIGHLIGHTS
NEW: U.S. financial institutions reminded to look for suspicious movement of assets
Death toll from uprising is 365, health minister told state-run TV on Wednesday
State media: 200 protesters demand better pay and treatment outside a factory
The chief of the armed forces meets with the constitutional committee
Cairo, Egypt (CNN) -- As Egypt's military moves forward with a plan to enact constitutional reforms, protests continued Wednesday while the country adjusted to its new governing body.
Military personnel dispersed about 200 protesters Wednesday outside a welding factory between Cairo and Alexandria, state media reported. The protesters blocked traffic for about a half-hour, demanding better pay, better compensation for working longer hours and better treatment from management.
Meanwhile, the military has formed "an apolitical and independent constitutional committee" to propose constitutional reforms within 10 days, according to Wael Ghonim, an activist credited with spearheading the protests that toppled former President Hosni Mubarak's regime of almost 30 years.
State-run television said a retired judge, Tarek Beshri, will head the panel. It also reported that Mohammed Tantawi, head of the Supreme Council of the Armed Forces, met Tuesday with the panel to make sure plans are on target for the reforms.

Search for the missing in Egypt

Muslim Brotherhood: What's next?

The role of social media in revolutions

Mideast unrest: How far will it go?
After that plan is forged, a referendum will be held on the measures within two months, Ghonim said in a statement on the social media website Facebook.
Ghonim learned about the constitutional referendum timetable on Monday during a meeting with members of the Egyptian military -- which assumed power last week when the nation's longtime president stepped down after 18 days of tenacious anti-government demonstrations. Protesters took to the streets armed with complaints over lack of economic opportunity, poverty and corruption as well as demands for Mubarak's immediate resignation.
Ghonim and seven other leaders of the youth uprising sat down with two representatives of the Supreme Council of Armed Forces. He said the military officials don't want to rule the country and believe that developing a civilian government is the only option for moving Egypt forward.
The military has been in charge since Friday, when Mubarak's resignation was announced. Top military leaders dissolved parliament, suspended the constitution and vowed to remain in charge until elections can be held in six months or so.
Wednesday night, the nation's health minister, Ahmed Sameh Farid, told state-run Nile TV that 365 people had been killed in the uprising, which began January 25.
The unprecedented changes in the most populous Arab nation have been watched closely throughout the Middle East and North Africa, where more unrest has unfolded in places such as Iran, Bahrain, Algeria, Libya and Yemen.
Touching on the damage to the economy, the military agreed to begin a campaign to collect 100 billion Egyptian pounds to rebuild the country. Egypt's Central Bank announced in a statement Tuesday that banks were to be closed on Wednesday and Thursday -- the last two days of the country's work week.

CBS reporter attacked in Cairo

Social media after Egypt's revolution

Why Egyptians are celebrating in traffic
Meanwhile, a Treasury Department spokesman not authorized to speak on the record told CNN: "consistent with U.S. efforts to assist Egypt in the current political transition, Treasury today issued an advisory to U.S. financial institutions related to the potential increased movement of assets related to the situation in Egypt.
"The advisory reminds U.S. financial institutions of their obligations to monitor closely any financial activity that could potentially represent misappropriated or diverted state assets, proceeds of bribery or other illegal payments, or other public corruption proceeds," said the Treasury spokesman.
Also Wednesday, Higher Education Minister Hani Helal announced that state schools and universities will remain closed until Saturday. Some private institutions also said they will remain closed until next week.
And in front of the country's supreme court building, a few hundred protesters -- mostly women -- called for fair trials for their brothers, husbands and fathers. Their loved ones were arrested during Mubarak's rule for being part of the Muslim Brotherhood.
CNN's Amir Ahmed, Adam Levine, Jill Dougherty and Arwa Damon contributed to this report.
FOLLOW THIS TOPIC