Palestinian Authority Cabinet submits resignation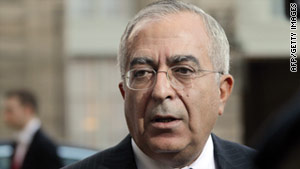 Palestinian Authority Prime minister Salam Fayyad.
STORY HIGHLIGHTS
President Abbas accepts the resignation of the prime minister
He stresses creating a government for an independent state by September
The Palestinian Authority government is under increasing pressure and criticism
Jerusalem (CNN) -- The Cabinet of Palestinian Authority Prime Minister Salam Fayyad resigned Monday, a government spokesman said.
Fayyad met with President Mahmoud Abbas, who accepted the resignations and asked him to form a new government over the next six weeks, according to spokesman Dr. Ghassan Khatib.
Abbas stressed the importance of creating a government that would prepare Palestinians for an independent state by September, according to the official Palestinian news agency Wafa.
Abbas has been discussing the possibility of a government shakeup for several months following various allegations of corruption and incompetence in some ministries, according to Palestinian officials.
The Palestinian Authority government consists of 24 Cabinet positions, of which only 16 had been filled. The move comes just two days after Abbas' government announced that it would hold legislative and parliamentary elections before September in the West Bank and Gaza in a bid to promote political reconciliation and "satisfy the will of the Palestinian people"

Palestinian cabinet shuffle
While the Palestinian Authority, which is dominated by the Fatah movement, dominates the West Bank, the Hamas movement, which holds sway in Gaza, rejects its authority. Hamas dismissed a call last week by Fatah to hold local elections on July 9.
Abbas, speaking Monday in Ramallah, noted the recent uprisings in Tunisia and Egypt and said, "It is the right of the people to choose the government that they want."
He urged Hamas to "resort to reason and put the national interest as a priority" and to work toward reconciliation with Fatah.
Even before the aftershocks of the political earthquake in Egypt began in the West Bank and Gaza, the Palestinian Authority government was under increasing pressure and public criticism.
Negotiations with Israel broke down months ago.
And last month, Al-Jazeera published secret Palestinian negotiating papers that revealed some of the wide-ranging concessions Palestinian officials were willing to make in 2008 in talks with Israel.
Among the potential concessions detailed were a willingness to trade away huge swaths of East Jerusalem and to put extensive limits on the right of Palestinian refugees to return to their former homes in what is now Israel.
These details and others prompted a torrent of criticism from Palestinians and led to the resignation of long-time Palestinian negotiator Saeb Erakat this past weekend.
On Monday, former employees of the Palestinian Negotiations Support Unit, which was the department charged with overseeing negotiations with Israel, said it had been disbanded. Erakat was the head of the office.
It was not immediately clear which part of the Palestinian Authority government will be responsible for future negotiations.
FOLLOW THIS TOPIC