Hariri attacks Hezbollah as political crisis in Lebanon deepens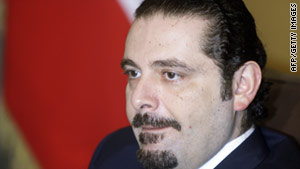 Former Lebanese Prime Minister Saad Hariri said his political bloc would not join the new government now being formed.
STORY HIGHLIGHTS
Saad Hariri says Hezbollah is too quick to use weapons in resolving political differences
He also defends the work of the international tribunal investigating his father's assassination
Last month Hezbollah and its allies ousted Hariri as prime minister
Beirut, Lebanon (CNN) -- In an emotional speech to thousands of supporters in Beirut, former Lebanese Prime Minister Saad Hariri issued a direct challenge Monday to the Shiite Hezbollah movement, saying that the Lebanese people can no longer bury their heads in the sand in the face of Hezbollah's weapons.
Hariri was speaking on the sixth anniversary of the assassination of his father, Rafik Hariri, who was prime minister for 10 years between 1992 and 2004. At times in tears, he told the rally that his father was killed because "he said 'no' to changing the Arab, democratic, free and sovereign Lebanon."
Saad Hariri was prime minister until last month, but his government was brought down by Iranian-backed Hezbollah and its allies. He told supporters that his movement is now ready to move into opposition because it values truth and justice over power. Efforts are continuing to form a new government, but Hariri's speech Monday ended speculation that his March 14th block will play any role in it.
Analysts describe the speech as a watershed in Lebanese politics, where there are now two polarized camps with shrinking space for compromise.
Confronting Hezbollah, which is branded as a terrorist organization by the United States, Hariri said the issue of its weapons is not related to the right of the Lebanese people to face Israeli aggression "but to the excessive use" of the weapons "in resolving political differences."
Hezbollah has a well-armed militia and is estimated to have thousands of rockets and missiles targeted at Israel.
"Let me be frank with you on this issue," Hariri said. "We cannot bury our heads in the sand claiming that the weapons issue doesn't exist and that the Lebanese are forbidden to talk about it. The truth is totally otherwise and the experience of the last six years proved that it is a controversial issue among the Lebanese."
Hariri also defended the work of the international tribunal investigating his father's assassination. The tribunal is said to have drawn up indictments against several Hezbollah members, but none has yet been published. Hezbollah describes the tribunal as a tool of the United States and Israel, but Hariri said it is "not American nor French nor Israeli and doesn't target any sect or group. ... We have not and never will be in confrontation with the Shiite community."
It was largely because the tribunal was close to issuing indictments that Hezbollah brought down Hariri's government.
Hariri also spoke for the first time about a Syrian-Saudi initiative to organize a national reconciliation conference for Lebanon and remove "all armed outposts" on Lebanese soil. But, he said, "we were met again with a request to surrender and not to reconcile by those who don't want a dialogue because they consider themselves bigger than Lebanon," a remark aimed at Syria and Hezbollah.
Embracing the Egyptian protest movement, Hariri said his party would organize a major rally on March 14th -- the sixth anniversary of demonstrations that ultimately led to the withdrawal of Syrian troops from Lebanon.
In the meantime, Prime Minister-designate Najib Mikati continues efforts to put together a government supported by Hezbollah and its allies, which include the veteran Christian politician Michel Aoun, several Sunni factions and the minority Druze party. Mikati has said he will try to name a Cabinet within a week.
U.S. President Barack Obama and Secretary of State Hillary Clinton issued statements Sunday urging the new Lebanese government to cooperate with the international tribunal.
FOLLOW THIS TOPIC