Iran names new nuclear agency chief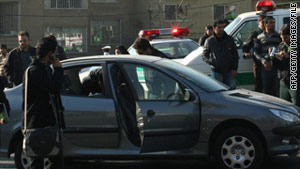 Police in November investigate the scene of a car bombing in which Fereydoun Abbasi was targeted.
STORY HIGHLIGHTS
Fereydoun Abbasi was named head of Iran's Atomic Energy Organization
He was one of the scientists who was targeted in an attack last year
Talks between Iran and the P5+1 group have stalled
(CNN) -- Iranian President Mahmoud Ahmadinejad on Sunday appointed Fereydoun Abbasi -- who survived an assassination attempt late last year -- as the new head of the country's Atomic Energy Organization, the state-run Press TV reported.
Abbasi, a professor at Shahid Beheshti University in Tehran, replaces Ali Akbar Salehi, who was appointed as foreign minister last month, Press TV reported. Ahmadinejad cited Abbasi's "commitment and past scientific and executive record," in his announcement.
In November of last year, Abbasi and fellow professor, Majid Shahriari, were attacked in separate car bombings. Shahriari was killed, but Abbasi and his wife sustained injures and were hospitalized, Press TV reported.
Abbasi will oversee a nuclear program that has drawn criticism from many other countries.
Most recently, the European Union's top diplomat expressed disappointment in January at the conclusion of two days of talks with Iran about the nuclear program, saying the six countries she represented refused to accept preconditions demanded by Tehran's delegation.
The five permanent members of the United Nations Security Council -- Russia, China, France, the United States, and Britain -- and Germany, referred to as the P5+1, came to the negotiating table with an updated proposal for a nuclear fuel swap for Tehran's research reactor, Catherine Ashton said.
Two prior nuclear fuel swap deals have collapsed after previous rounds of negotiations.
FOLLOW THIS TOPIC