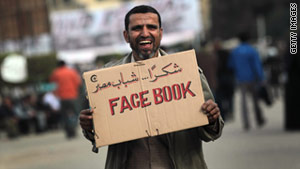 Protesters signal "the winds of change are sweeping the Middle East," says Arab League chief Amre Moussa.
STORY HIGHLIGHTS
Arab League chief: "The winds of change have started"
Leaders in Yemen and Jordan have announced changes
Rubin: Some of these regimes are willing to use deadly force
Ajami: "Arab governments are worried, and they should be worried"
(CNN) -- Zine El Abidine Ben Ali ruled Tunisia for 23 years, and now he's gone. Hosni Mubarak ruled Egypt for nearly 30 years, and now he, too, has left the stage.
Have the dictatorship dominoes in the Arab and Middle Eastern world begun to topple? And if they have, where will the next one fall?
"The only thing I want to tell you here is that the winds of change are sweeping the Middle East," Arab League chief Amre Moussa, a former Egyptian foreign minister, told CNN. "How it would move and what direction, when, where, I'm not in a position to judge very well what the extent will be. But it is, in my opinion, the winds of change have started."
In nearby Libya, Facebook pages announce peaceful demonstrations scheduled for Monday in the shadow of leader Moammar Gadhafi, who has ruled the country for almost 40 years and just a few days ago reiterated his support for Mubarak.
Across the Red Sea, thousands have protested Yemeni President Ali Abdullah Saleh, who has ruled Yemen for 32 years -- and has pledged not to stand for re-election when his current term -- begun in 2006 -- ends in 2013.
And in Jordan, King Abdullah II shook up his cabinet last week, this week adding several opposition and media figures to the mix, headed by a former general.
But observers warn not to look for too many "winds of change."
"What do Tunisia and Egypt have in common? The military made a decision not to intervene," said Jamie Rubin, a diplomat in former President Bill Clinton's State Department. "You have Iran, and we have enormous numbers of people on the street, not so long ago. But security services were prepared to kill them, arrest them, put them in prison. And if you go to Syria, you have a military regime that in the past has been prepared to commit mass murder. So we have to make these distinctions."
"They made a decision to intervene, but not with violence," Rubin said. "They made a decision to let the revolution play out and not to shore up the status quo. Their decision not to use force against the public permitted the public to break through that barrier of fear."
Fouad Ajami, a Lebanese-born scholar and expert on Middle East affairs, said that the people over the decades have begun to lose their awe -- and fear -- of their governments.
"Look at the episodes. There was a spider hole, Saddam was flushed out of the spider hole in 2003. And then came the spectacle" of his trial, Ajami said. "And so I think that many Arab governments are worried, and they should be worried. They treat their people badly. They brutalize them. They plunder the money. There's no social contract in many of these states, and I think they have every right to be worried."
"But one has to be careful where and how. I would not want, for example, for there to be a rebellion in Syria, because my worry is that the Syrian regime would commit such atrocities," he said.
Still, even some of the more strict regimes have spoken of change in light of the recent uprisings.
Algerian President Abdelaziz Bouteflika, in charge for the past 12 years, will lift a nearly 20-year-old state of emergency in the "very close future," the state news agency announced last week. The move is one of several demanded by demonstrators in recent protests against the government, which imposed the emergency decree in a crackdown against Islamic political parties in 1992. The clampdown triggered an Islamist insurgency that left more than 100,000 dead, according to human rights groups.
Syrian President Bashar al-Assad took power in 2000 after the death of his father, who had ruled since 1971. In an interview published last week in The Wall Street Journal, he said Middle Eastern leaders must "see the need of reform" before protests like those in Egypt and Tunisia break out, because by then, "it's too late."
Iran, on the other hand, is actively trying to prevent protests called for Monday in support of the Egyptian uprising, while simultaneously saluting Mubarak's overthrow.
But the real bottom line about the row of dominoes in the Middle East and parts of Africa is this: No one can truly be sure what will happen next. Before Mubarak's dramatic and swift departure but after Ben Ali's, many experts doubted seriously that Egypt would follow Tunisia's lead.
FOLLOW THIS TOPIC