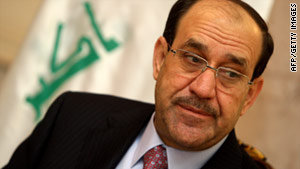 Iraqi Prime Minister Nuri al-Maliki listens to a question during an interview on Saturday.
STORY HIGHLIGHTS
Human Rights Watch says about 280 detainees are at the secret prison
The organization says the facility is run by the prime minister's security forces
Adviser Ali al-Moussawi says the report is "lies"
Baghdad (CNN) -- The Iraqi government on Sunday denied a human rights organization's allegation that it has a secret detention center in Baghdad, run by Prime Minister Nuri al-Maliki's security forces.
Human Rights Watch made the claims in a report last week, basing them on interviews with government sources and classified documents it obtained. Over a period of a few days in November, more than 280 detainees were transferred to the secret site within Camp Justice, a military base in northwest Baghdad's Kadhimya neighborhood, the report said.
"We don't know how such a respectable organization like Human Rights Watch is able to report such lies," Ali al-Moussawi, an adviser to al-Maliki, told CNN Sunday. "The organization either has a political agenda behind this report or its employees have been misled by false information."
Human Rights Watch alleges the secret facility is controlled by the Iraqi army's 56th Brigade, also known as the Baghdad Brigade, and the Counterterrorism Service, both under the authority of al-Maliki's office.
"The hurried transfers took place just days before an international inspection team was to examine conditions at the detainees' previous location at Camp Honor in the Green Zone," the organization said. "Human Rights Watch has obtained a list of more than 300 detainees held at Camp Honor just before transfer to Camp Justice. Almost all were accused of terrorism."
Of the 280 detainees, about 80 are being held by the Baghdad Brigade at the Camp Justice site and have had no access to attorneys or family members, Human Rights Watch said. Prison inspectors are not permitted to inspect the section of the facility under control of the brigade "prompting fresh concerns that the brigade may be torturing detainees."
"According to government sources, the Counterterrorism Service is holding the 200 remaining transferred detainees, although the 56th Brigade maintains primary responsibility for security at the site," the group said.
Human Rights Watch describes itself on its website as "dedicated to protecting the human rights of people around the world." It works to prevent discrimination, uphold political freedoms, protect people from "inhumane conduct" in wartime and to bring offenders to justice, as well as challenge governments to end abusive practices and respect international human rights, it says.
The organization said it has obtained 18 documents, including a December 6 letter from the prosecutor's office of the Higher Judicial Council, which asks the prime minister's office to instruct officials at the Camp Justice site to allow prison inspectors and relatives to visit detainees.
A second letter, dated January 13, from Justice Minister Hassan Al Shammari to the office of the commander in chief of the armed forces -- through which the prime minister controls Iraqi security forces, according to the group -- said a 56th Brigade officer presented prison inspectors from the Human Rights Ministry from visiting the site.
The secret detention facility is located within a legitimate Justice Ministry detention facility at Camp Justice, Human Rights Watch said.
The human rights organization also alleged that detainees at Camp Honor are being held in inhumane conditions and tortured, saying more than a dozen former detainees told Human Rights Watch they had been beaten, hung upside down for hours at a time, had electric shocks administered to various body parts, and asphyxiated with plastic bags over their heads until they passed out.
Al-Moussawi denied any detainees were being tortured and said all of Iraq's detention facilities are open for inspection at any time.
Iraqi officials have said Camp Honor is controlled by Iraq's Justice Ministry, Human Rights Watch said, but documents cast doubt on that. In one letter, the justice minister asks his staff to write a letter to the office of the commander in chief of the armed forces "requesting permission for custody of the prisoners to be turned over" to the ministry so they can be transferred, the organization said.
The Iraqi government has faced other allegations of torture in recent years. In April, Human Rights Watch released a report alleging torture and abuse at another facility, named Muthanna. The allegations were first reported by the Los Angeles Times.
"There are no secret prisons in Iraq at all," al-Maliki told Iraq's state-run al-Arabiya television. He called the reports "a smear campaign in which embassies and media organizations took part, and it was perpetuated by Iraqi politicians because it serves their interests to say that there are secret prisons." The Muthanna facility, he said, was not a secret facility.
Human Rights Watch said at the time it had interviewed 42 prisoners who said they were tortured and beaten.
Al-Maliki acknowledged in the interview there were a small number of cases of abuse in jails, but he said that happens everywhere in the world. He said some members of parliament had visited the facility and directed the inmates to make false allegations about torture and give themselves scars.