Execution rate in Iran alarms UN human rights chief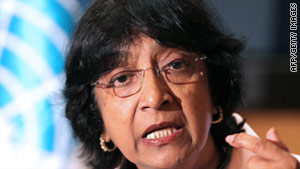 Navi Pillay, U.N. High Commisioner for Human Rights, repeated calls Wednesday for Iran to stop executions.
STORY HIGHLIGHTS
U.N. human rights chief urges Iran to stop executions
There have been 66 executions since the beginning of the year, human rights group says
Iran is second only to China in the number of executions, group says
(CNN) -- The head of human rights for the United Nations has expressed alarm at the number of executions carried out by Iran in the new year.
"We have urged Iran, time and again, to halt executions," U.N. High Commissioner for Human Rights Navi Pillay said Wednesday. "I am very dismayed that instead of heeding our calls, the Iranian authorities appear to have stepped up the use of the death penalty."
At least 66 people were executed during January, according to Iranian media reports. Most of the executions were reportedly carried out for drug offenses, although at least three involved political prisoners, a U.N. statement said.
The U.N. response comes two days after the United States condemned the execution of a Dutch-Iranian woman whom Tehran accused of smuggling drugs.
On Monday, the U.S. State Department said it was "deeply concerned that Iran continues to deny its citizens their human rights."
Last month, the New York-based group, the International Campaign for Human Rights in Iran, said the Iranian regime was on an "execution binge."
"The Iranian Judiciary is on an execution binge orchestrated by the intelligence and security agencies," said spokesman Aaron Rhodes.
The group said the number of unreported executions is even higher in politically motivated cases.
Rhodes pointed to a recent execution of a Kurdish activists that he said had not been fully reported to the public.
"The execution of Kurdish activists, without fair trials and following torture, increasingly appears as a systematic, politically motivated process," he said.
According to the group, Iran executes more people per capita than any other country and is is second only to China.
CNN's Mitra Mobasherat contributed to this report
FOLLOW THIS TOPIC