Israeli police arrest 4 in American's death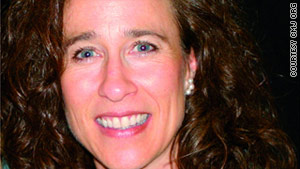 American tourist Kristine Luken was stabbed to death while hiking in a forest near Jerusalem in December 2010.
STORY HIGHLIGHTS
4 other men are suspected of being accomplices
The suspects will be charged with Kristine Luken's murder and a second death
They told police the motive was revenge for the death of a Hamas leader
Jerusalem (CNN) -- Israeli police and security services have arrested four Palestinian men in connection with the December slaying of American tourist Kristine Luken, authorities said.
The four suspects are Palestinians from the villages of Tarkumieh and Tzurif near Hebron in the southern West Bank, police spokesman Micky Rosenfeld said.
They will be charged Wednesday with murder in Luken's death, and also with killing an Israeli woman, Neta Sorek, in February 2009. They also will be charged with the attempted murder of Luken's friend, Kay Susan Wilson, and the attempted murder of another couple, Rosenfeld said.
The four admitted carrying out the crimes, Rosenfeld told CNN, and told police the motive was revenge for the January 2009 killing of Hamas official Mahmoud al-Mabhouh in Dubai. Al-Mabhouh, a founding member of Hamas' military wing, was found dead in his Dubai hotel room. The Israeli Mossad is widely suspected in his death.
DNA from the crime scenes also directly connected some of the suspects to the crimes, Rosenfeld said. Four other men were arrested on suspicion of being accomplices to Luken's murder.

2010: Slaying in Israel
Luken was killed while hiking with Wilson, her friend and co-worker at a Christian ministry, in a forest near Jerusalem. Luken's body was found after Wilson stumbled into a picnic area with her hands bound, bleeding from multiple stab wounds and asking for help.
Authorities believe the two women were approached by the suspects, who asked them for water, then were attacked a few minutes later. Wilson told authorities they were bound and gagged, then Luken was stabbed to death. Wilson was also stabbed multiple times but played dead until the suspects left.
Luken and Wilson, a British citizen living in Israel, both worked for CMJ UK, a Christian ministry based in England.
FOLLOW THIS TOPIC