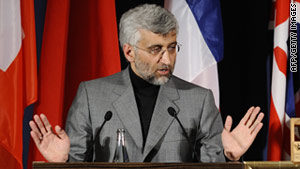 Diplomats say Saeed Jalili showed no interest in confidence-building measures Iran could take to move forward.
STORY HIGHLIGHTS
Iranians meet with diplomats from U.S., Russia, China and three other countries
They report little progress in talks over Iran's nuclear ambitions
Diplomats say Iran's lead negotiator spent time trying to find divisions among nations
Western diplomat: Despite talks going nowhere, "the food was excellent"
Washington (CNN) -- There was one silver lining in the two days of talks with Iran over Tehran's nuclear activities.
"The food was excellent," one Western diplomat said.
But aside from the pleasing hospitality, little progress was made by the United States, Britain, France, Germany, Russia and China to come up with a solution to stopping Iran's quest for nukes, according to diplomats briefed on the meeting.
The previous meeting between world powers with Iran's lead negotiator, Saeed Jalili, in Geneva, Switzerland, in December failed to exceed the low expectations that were set, the diplomats all said.
In this latest meeting in Istanbul, the Iranians upped the ante by failing to even meet the "no expectations" that the so-called "P5 plus one" had going into the talks, diplomats said.
From the beginning, Iran seemed to go into the talks with little desire to reach an agreement. Discouraging e-mail dispatches from diplomats in the talks were sent home to capitals, such as "It got very bad quickly," another Western diplomat who received the e-mails said Monday.
After a round of introductory statements from the world powers and the EU's Catherine Ashton, who is the lead negotiator for the group, Jalili gave his usual preamble about Iran's stated right to enrich uranium.
Then he said Iranian enrichment, at the current weapons-grade level of 20%, must be a condition for further negotiations. Oh, and all of the sanctions against Iran must be lifted.
Even the Chinese, who have been the most reluctant to get tough on Iran, didn't think that was a good deal.
Diplomats said that Jalili spent the morning trying to find divisions among the partners in the talks. When he couldn't peel anyone away, he looked to his Turkish hosts to try and find some wiggle room.
Then, the talks broke for Muslim prayers. After the prayers, Jalili said he had a headache and disappeared for several hours. When the talks finally resumed that evening, it was clear progress was a pipedream.
Jalili appeared on CNNI's "World Report," saying Iran is "ready for cooperation and talks." However, he cautioned that "these talks should be within the context of respecting the nation's rights and putting aside ... hostile measures."
Western diplomats say Jalili showed no interest in confidence-building measures Iran could take to move toward negotiations, such as admitting nuclear inspectors from the International Atomic Energy Agency or implementing certain safeguards in its enrichment program. Ashton told reporters Jalili did not want to engage in discussions about reviving the now-defunct deal to swap most of Iran's low-enriched uranium for fuel rods to power a medical research reactor in Tehran.
"They didn't give us much to work with," one Western diplomat said. "Our sense is that they want to play a tactical game and use the talks to alleviate the pressure on them."
But with no date for new talks set, several diplomats said the group would meet to discuss how to increase pressure on Iran to make the regime change its calculus.
The U.S. and other nations have argued that current nuclear and financial sanctions on Iran are working. Iran is finding it hard to procure nuclear materials, which is slowing the development of its program. Strict financial sanctions by the United States on Iranian banks have raised the cost of doing business and is putting political pressure on the regime.
Covert sabotage operations against Iran's nuclear program, diplomats argued, are also damaging Iran's nuclear program. A successful cyberattack, known as the Stuxnet worm, and the assassination of several Iranian scientists, they said, are having as much of an effect, if not more, in slowing Tehran's nuclear developments and increasing the timeframe Iran in which Iran is expected to acquire a nuclear weapon.
"I don't think they can produce a weapon in a short amount of time," one Western diplomat said, adding this allows some breathing room for further diplomacy because Israel is less anxious about the need to take military action.
In the short term, diplomats say to expect better implementation and expansion of existing financial sanctions on Iran. As more and more countries squeeze Iran out of their banks, the United States and its partners will look at where Iran is trying to move its money and ensure others don't pick up the slack.