Radical Iraqi cleric travels back to Iran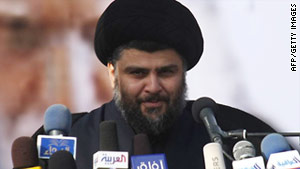 Iraqi cleric Muqtada al-Sadr addresses a crowd in Najaf, Iraq, on January 8.
STORY HIGHLIGHTS
Muqtada al-Sadr recently returned to Iraq after three years in exile
He is conducting regional visits to a number of countries, an aide says
His political bloc recently joined forces with Prime Minister Nuri al-Maliki
Baghdad (CNN) -- Iraqi radical Shiite cleric Muqtada al-Sadr has traveled to Iran for a visit, weeks after returning to Iraq and ending three years of self-imposed exile.
An aide close to al-Sadr said the cleric is conducting regional visits to a number of countries, beginning with a stop in Tehran. Al-Sadr left Iraq on Thursday, said the aide, who is not authorized to speak to the media.
During his three years away from Iraq, al-Sadr spent most of his time in Iran.
Al-Sadr's aide did not say when the cleric plans to return to Iraq.

Anti-American cleric speaks in Iraq

Radical cleric returns to Iraq
An outspoken anti-American political figure, al-Sadr delivered a fiery speech earlier this month in Najaf, calling on tens of thousands of followers to "resist" and "disturb" the United States.
"We have not forgotten the occupier. We remain a resistance," he said in the January 8 address.
He exhorted Iraqis to unite and end the infighting that has plagued the country. "Whatever struggle happened between brothers, let us forget about it and turn the page forever and live united," al-Sadr said. "We do not kill an Iraqi."
Al-Sadr commanded one of Iraq's most formidable private armies after the fall of Saddam Hussein, which contributed to violence and instability in the country for several years.
His political bloc has now joined forces with a former rival, Prime Minister Nuri al-Maliki.
The Sadr movement emerged as one of the kingmakers in Iraqi politics last year when it won 39 parliamentary seats. The bloc's support played a major role in al-Maliki getting his second term in office.
Observers believe al-Sadr is working to transform his group into a sophisticated and populist political movement, a development that belies that group's militant activity and rhetoric over the years.
CNN's Mohammed Tawfeeq, Jomana Karadsheh and Joe Sterling contributed to this report
FOLLOW THIS TOPIC