Israel attacks two targets in response to rocket fire, military says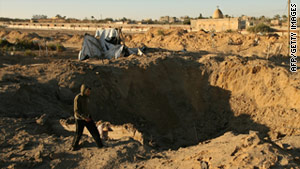 The last few weeks has seen an increase in cross-border rocket fire from Gaza and retaliatory airstrikes by Israel.
STORY HIGHLIGHTS
The tunnel is used by militants to cross into Israel, the military says
The military holds Hamas responsible for rocket fire from Gaza
Cross-border violence has picked up in recent days
Jerusalem (CNN) -- The Israeli Air Force targeted two locations that it described as a "terror activity center" and a "Hamas tunnel" in response to rocket fire from Gaza, the military said Friday.
Officials said militants used the tunnel in southern Gaza to cross into Israel and carry out attacks against its citizens.The second location targeted was in southern Gaza, the military said.
In the last two days, militants have lobbed eight rockets into Israel, officials said.
The military holds the Hamas movement responsible for any rocket fire from Gaza, and said it will continue to respond "harshly."
The firing of missiles from Gaza into Israeli communities prompted Israel's offensive two years ago against militants in the Palestinian territory, ruled by Hamas.
There have been skirmishes between Palestinian militants and Israeli forces and missile fire since then.
Last year, more than 235 rockets and mortar shells were fired from Gaza into Israeli territory, the military said.
The last few weeks has seen an increased level of cross-border violence, with more rocket fire from Gaza and retaliation from Israel.
On Thursday, the bodies of two men were found in northern Gaza, Palestinian medical sources said.
This came as the Israeli military reported that soldiers fired at people attempting to cross the fence between Gaza and Israel on Wednesday night. One of them was hit, the military said.
The Palestinian sources said the bodies were discovered east of Jabalya.
CNN's Kevin Flower contributed to this report.