Palestinian man in West Bank killed during Israeli raid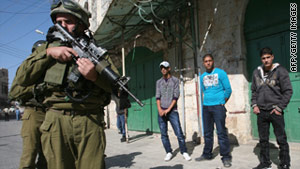 A Palestinian man was killed during an Israeli raid in Hebron, a West Bank city with a heavy Israeli troop presence.
STORY HIGHLIGHTS
Palestinians say slain man is 66
Hebron official calls killing an "assassination"
IDF regrets outcome, orders investigation
Jerusalem (CNN) -- Israeli forces killed a Palestinian man when they raided a militant's home in the West Bank city of Hebron early Friday, Israeli and Palestinian authorities said.
Palestinian officials said the slain man was 66 years old, and Kamel al-Hameed, the Hebron district governor, called the killing an "assassination."
Al-Hameed said troops stormed the house of Omar Kwasmi in an operation to arrest Kwasmi's nephew, a known Hamas member who had just been released from a Palestinian Authority prison the day before.
"They have entered a house that has children and women and this man they have killed in cold blood is an old man, there is no justification for the crime. I can not imagine why they have shot this man," Hameed said.
The Israel Defense Forces, in its statement on the incident, said "a Palestinian man who was present in one of the terrorist's homes was killed."
The IDF said it regretted "the outcome of the incident" and ordered a commander to investigate the event and provide conclusions early next week.
"The IDF was not able to give more specific details about what happened in the house during the arrest which caused the death of the Palestinian man. Those details will come out once the investigation is completed," the IDF said.
The IDF said that soldiers early Friday arrested Wael Mahmoud Said Bitar, a senior member of the Hamas armed infrastructure in the Hebron region, and four Hamas operatives who worked with him. All five were freed from a Palestinian prison on Thursday.
"Bitar was the assistant of Shehab Natshe who planned the suicide bombing in Dimona in 2008 in which an Israeli woman was killed and ten civilians were injured. After Natshe was killed Bitar planned several suicide attacks that were eventually thwarted. In 2008 Bitar was arrested by Palestinian forces," the IDF said.
CNN's Michal Zippori contributed to this report