British consulate workers in Israel charged over alleged plot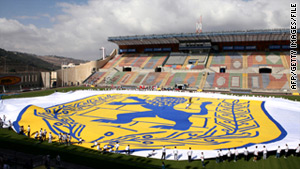 The alleged plot involves Teddy Football Stadium in Jerusalem, shown in a file photo.
STORY HIGHLIGHTS
The two staff members are charged with weapons offenses
It relates to an alleged plot to fire a rocket into a stadium
Officials say the probe is unrelated to their work at the consulate
Jerusalem (CNN) -- Two staff members of the British Consulate-General in Jerusalem arrested in connection with an alleged plan to fire a rocket into a Jerusalem stadium have been charged with acquiring and trading weaponry and other weapons-related offenses, the Israeli security agency said.
The Shin Bet named the men as Mussa Hamada of East Jerusalem, and Bassem Omri, an Israeli citizen living in Beit Tzafafa. Both are members of Hamas and the "Muslim Brothers" movement in Jerusalem, the Shin Bet said.
They were arrested in December.
Monday's announcement of their arrest came a day after Israeli police announced that five members of Hamas were charged in the alleged plot.
The pair are suspected of planning terrorist attacks following Israeli airstrikes on Gaza in 2008, the statement said.
Three other Palestinians were charged with selling them pistols, Shin Bet said.
A spokesman for the British Foreign Office said they had been told by Israeli authorities that the investigation into the two men is unrelated to their work at the consulate.
CNN's Michal Zippori contributed to this report.
FOLLOW THIS TOPIC