STORY HIGHLIGHTS
Spanning 57 km, the Gotthard Base Tunnel is longest rail tunnel in the world
It will cut travel time between north-south axis in Europe, including Zurich to Milan
Tunnel cost $11 billion dollars and has taken four million man hours to complete
Zurich, Switzerland (CNN) -- The Alps are a vast natural barrier to movement between countries including Germany and Italy -- forcing cargo freights and travelers alike on winding detours through their rocky expanse.
But negotiating the mountain range will soon become quicker and easier because of an incredible feat of engineering.
The world's longest railway tunnel -- the "Gotthard Base Tunnel," (GBT) in Switzerland -- is in its last phase of construction.
The GBT spans a route length of 57 kilometers between the Swiss towns of Erstfeld in the north and Bodio in the south, running directly through the mountains that lie in its path.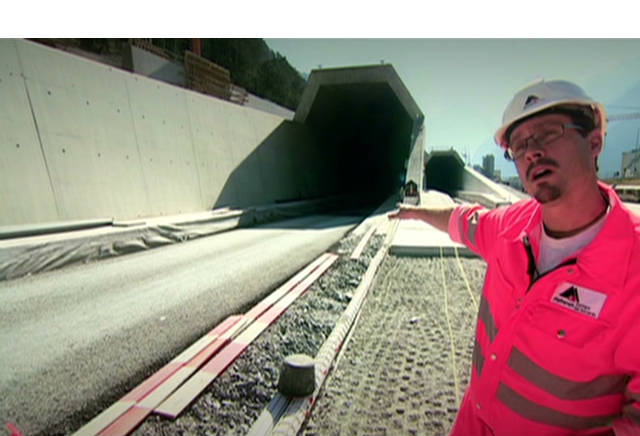 The longest rail tunnel in the world
It took a team of 2,600 construction workers, engineers and geologists to dig, blast and bore their way through 13.3 million cubic meters -- and 20 different strata -- of rock.
It's a process that took about 14 years, and claimed the lives of eight people.
"The main reason for the construction of this tunnel was to get the goods traffic off the motorway and onto the trains," says Simon Peggs, of AlpTransit Gotthard AG, which is building the tunnel.
"It's just getting more and more (busy) every year and it was estimated that by 2020 the roads will be so blocked that something had to be done," he added.
The region's existing rail and road routes are an important link along the north-south axis in Europe. But traffic has increased sharply in the past 30 years and they are now operating at capacity.
At present, a train from Zurich to Milan takes nearly four hours, climbing 500 meters up the Alps and through the famous 15 km-long Gotthard Tunnel, built in 1882.
It's hoped that completion of the GBT, which in places runs beneath 600 meters of mountain, will cut the travel time between Zurich and Milan by an hour and provide an easier and more economic route for heavy freight trains.
More: How Zurich feeds 350,000 rail travelers a day.
If all goes to plan, the economic benefits of increased trade and travel efficiency will make swift inroads into the tunnel's $11 billion (€8 billion) construction cost.
The tunnel is just over three kilometers longer than the Seikan rail tunnel in Japan, which at 53.9 kilometers had previously been the longest rail tunnel in the world.
Having finished the laborious excavation work, the challenge now lies in the extensive mechanical finishing touches.
"At this stage we're talking about a whole lot of electrical mechanical stuff being put in," explains Peggs. "It's like when you install a DVD player -- you've got to get all the switches in the right place and get it to work, so that's the work that's happening now."
The GBT is scheduled to be fully functioning by 2016 and will take up to 300 trains underneath the Alps every day.