STORY HIGHLIGHTS
Poland will co-host Euro 2012 football tournament with Ukraine next year
Organizers are beefing up security arrangements to counter violent incidents
New stadia have been built and plans to use face-recognition technology
Editor's note: From Monday September 12, CNN's Eye On takes you to Poland. Through interviews and reports, get an up-close look at the country in an international context on TV and online.
(CNN) -- In preparation for co-hosting next summer's Euro 2012 football championship, Poland has been transforming itself.
With help from EU funding, new airports, roads and impressive stadia are all set to be completed well in time before the first match kicks off in Warsaw on June 8.
From the infrastructure to the event itself, organizers are now focusing on the matches that will be played in four of Poland's cities.
"Now we are looking at organizational issues and the most important in that is safety. Poland is not more dangerous than other European countries, "said Adam Giersz, Poland's Minister for Sport and Tourism.
Great strides have been made in eradicating violence and hooliganism from football matches across Europe, but it remains a concern and on-going problem in many countries, including Poland.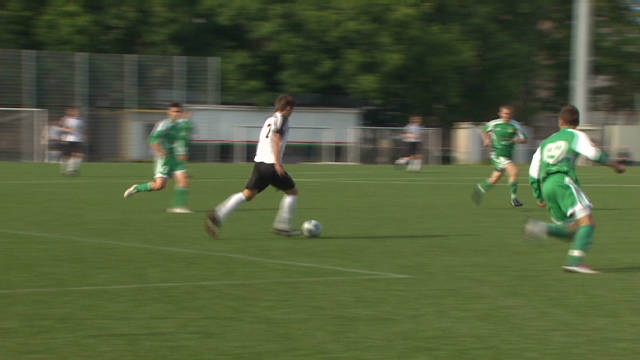 Legia Warsaw puts faith in youth
Some of the leaders of hooligan groups were punished by the courts so I think Euro 2012 will be ok.
--Hanna Gronkiewicz-Waltz, Mayor of Warsaw
The Polish Cup final in May between Legia Warsaw and Lech Poznan was marred by violent scenes and UEFA, European football's governing body, warned the Polish Football Association after hooliganism during the country's international match against Lithuania in March.
However new laws on assembly and who can enter stadia were passed earlier this year and led to numerous arrests.
"They are already frightened because they were already arrested," said Gronkiewicz-Waltz, Warsaw's mayor.
"They were punished, some of the leaders were already punished by the courts and so I think (Euro 2012) will be ok."
Poland has looked to the UK for examples of how to improve safety around football matches.
"Our new safety law is based on the British system," said Giersz referring to the way English football clubs and UK government enacted numerous measures to remove a violent minority from attending football matches.
"The main points are to get rid of anonymity. Everyone at the stadium must be recognized by name and surname."
It is hoped that the face-recognition technology being trialed that can identify banned hooligans will be ready in time for the competition and augment other security measures, such security cameras and restricting access around stadia to ticket-holders.
The country will be under the spotlight in June, but many believe the planning and measures taken by Poland's government and the event's organizers will leave a positive legacy.
"I think new the stadiums in themselves will create more interest in football," said Krzysztof Dowhan, coach of Legia Warsaw.
"Fans will be able to enjoy the sport in more comfortable surroundings. Also I think more players from abroad will come to play in Poland which will in turn raise the standard of our game."
CNN's Jim Boulden contributed to this report
FOLLOW THIS TOPIC