Wael Ghonim's revolution: No leaders, just tweeters
STORY HIGHLIGHTS
Wael Ghonim spoke in Zurich
He promoted grass-roots engagement
Ghonim was instrumental in Egypt's uprising
Zurich, Switzerland (CNN) -- The former Google executive who used social media to jump-start social change in Egypt knows the key to leading a grass-roots revolution: Make it leaderless.
"If you want to use the internet to change a problem you are facing or create an opportunity for a lot of people, you have to make sure that everyone is engaged," said Wael Ghonim, speaking at the international One Young World summit -- a Zurich, Switzerland, summit for youth leaders.
"There's no 'I'm the leader; I'm the one who tells people what to do,'" he said.
Ghonim played an integral role in Egypt's social change this year as protests broke out in January over the rule of then-president Hosni Mubarak. He fired off a steady stream of messages to Twitter and Facebook about the uprising and worked behind the scenes to galvanize the uprising.
At one juncture, he was detained for 10 days in Egypt and eventually left Google to start his own venture.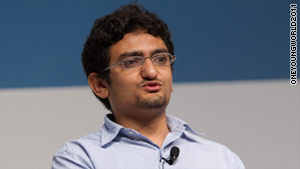 Former Google executive Wael Ghonim, who played a key role in Egypt's revolution, spoke at the One Young World summit.
Ghonim said "totally empowering the people" was key in Egypt, using their suggestions for photos and videos to post on Facebook and making sure collaboration was decentralized.
"It's not only important that you have a cause, it's important to make sure that that cause is not centrally managed by a small bunch of people," Ghonim said.
"Our rule is to not keep thinking and analyzing, it's just to get out and do."
Ghonim said the goal now is coming together on initiatives in the post-Mubarak era.
"It's very easy to get rid of a nightmare, it's very hard to dream. The nightmare is very obvious, it's the enemy, and we're all fighting against an enemy. Now when this enemy vanishes, it's very hard to think of a unified sort of thing--this is the biggest Egyptian challenge now."
Oscar Morales, a Colombian activist who led a Facebook campaign against the FARC radical group in his country a few years ago, appeared with Ghonim, and both spoke about texting, Twitter and Facebook.
He said "speed was very important" for him and Ghonim.
"We didn't have enough time to deploy and plan a protest," Morales said.
"Because if we gave them enough time people will suppress us and people will crush us--or the enemies, what we're trying to appose. In their [Egypt's] case, it was brilliant. They set something up in less than days. Not even the regime was fast enough to attack them or to crush them when it was still possible."
CNN's Kaj Larsen contributed to this report