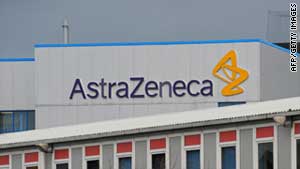 AstraZeneca is the manafucturer of the Seroquel XL tablets which are prescription only.
STORY HIGHLIGHTS
NEW: Two people are known to have taken the wrong drug
About 16,000 packets of painkiller Nurofen Plus could potentially be affected
Antipsychotic drug Seroquel XL is used to treat schizophrenia, mania and bipolar depression
Regulatory agency says it can't rule out sabotage, but suspects an issue with wholesalers
London (CNN) -- British health authorities on Friday urged vigilance after packages of an over-the-counter painkiller were found to contain antipsychotic drugs.
The antipsychotic Seroquel XL was inside packets of the painkiller Nurofen Plus, the Medicines and Healthcare Products Regulatory Agency warned.
Three defective packets have been found so far, all in pharmacies in south London, but more than 16,000 more could potentially be affected, the agency said. Each packet contains 32 tablets.
Nurofen Plus, made by Reckitt Benckiser, can be bought without a prescription and has silver and black packaging. It is used for short-term relief of acute pain and contains codeine.
The Seroquel XL 50mg tablets, manufactured by AstraZeneca, are prescription only and used to treat such illnesses as schizophrenia, mania and bipolar depression.
Two people are known to have taken Seroquel XL tablets from one of the affected Nurofen Plus packets, a spokeswoman for Reckitt Benckiser said. In the other two cases, people noticed the boxes contained Seroquel XL before taking any tablets, she added.
A spokesman for the regulatory agency told CNN it could not rule out sabotage, but at the moment believed it was an issue to do with the packaging of drugs by wholesalers rather than a manufacturing problem.
"We haven't ruled out sabotage as of yet, but the investigation is still at an early stage," he said.
Common side effects of Seroquel XL include dizziness, headaches and weight gain, he said.
Reckitt Benckiser, the maker of Nurofen Plus, said it was taking the issue "very seriously."
"It appears that all the standard blister strips of Nurofen Plus tablets have been removed and replaced with foil sealed blister strips of Seroquel XL," said a statement from the company issued by public relations firm Virgo Health.
"Nurofen Plus and Seroquel XL are not manufactured or packaged by the same company, or in the same factory, and therefore serious investigations are currently under way to establish the source of the problem," the statement said. "After careful review of the manufacturing system, manufacturing errors by the makers of Nurofen Plus or Seroquel XL are not thought to be part of the cause at this stage."
AstraZeneca, the maker of Seroquel XL, also ruled out manufacturing errors and said it was working with the MHRA and Reckitt Benckiser to find out what happened.
"Patient safety is our primary concern and we are taking this issue seriously," AstraZeneca said in a statement.
The regulatory agency urged those who have bought Nurofen Plus to check the packaging of tablets within the box carefully.
Anyone who has taken a tablet and has questions should consult their physician, the drug regulatory body's statement said.
Three batches of Nurofen Plus are affected by the alert, the MHRA said.
They are batch numbers 13JJ, expiry date 03/2014; 57JJ, expiry date 05/2014; and 49JJ, expiry date 05/2014.
CNN's Laura Smith-Spark contributed to this report.
FOLLOW THIS TOPIC