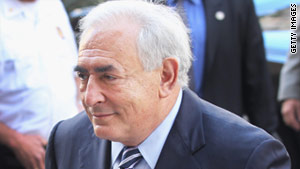 Before his arrest, Dominique Strauss-Kahn was considered a front-runner to enter the race for president of France.
STORY HIGHLIGHTS
Dominique Strauss-Kahn may seek to rehabilitate his political career in France
He still faces a civil lawsuit in New York and a possible attempted rape case in France
Nafissatou Diallo is still thinking about what to do next with her life, a pastor says
Questions are raised about her status after claims she lied in federal applications
(CNN) -- Since France's Dominique Strauss-Kahn was arrested in New York three months ago on sexual assault charges, the drama surrounding his case has gripped the United States, France and the world.
The case appeared to pit the word of the archetypal powerful white man against that of a poor black woman, in the form of his accuser, hotel maid and immigrant Nafissatou Diallo.
The criminal charges against the former French finance minister were finally dropped Tuesday by prosecutors in Manhattan, who said they doubted Diallo's credibility. But where does that leave both protagonists in this lurid drama, played out on the global media stage?
For Strauss-Kahn, who stepped down as head of the International Monetary Fund amid the scandal, Tuesday's news was a cause for celebration.
"This is the end of an unjust and terrible test. I'm relieved for my wife, my children, my friends and all those who've supported me," he said. "I can hardly wait to return to my country but first I still have a few things to do before being able to leave. I will explain myself more fully once I return."
What he will say once he is back in France is not clear -- but his legal troubles are not yet over.
Strauss-Kahn must remain in the United States for at least another 30 days to allow for an appeal against the decision to drop the charges. Meanwhile, a civil case filed against him by Diallo is still pending.
Investigators in France are also considering whether to prosecute him for attempted rape over a complaint filed by writer Tristane Banon, in relation to an alleged incident in Paris in 2003.
And a lawyer for Diallo, Thibault de Montbrial, opened up a new front in the legal battle Tuesday when he filed charges in France accusing a member of Strauss-Kahn's staff of putting pressure on a woman in the Paris suburb of Sarcelles not to testify against him in the New York case.
Aside from the legal issues, Strauss-Kahn must also overcome the damage done to his reputation if he hopes to recapture his political trajectory.
Before his arrest, he was considered a front-runner to win the Socialist Party's nomination to run for president against the incumbent Nicolas Sarkozy next year.
But despite the joy at Tuesday's news expressed by some of his fellow party members -- notably Martine Aubry, who is now seeking the Socialist nomination in his place -- observers say he may not find it easy to regain his former status.
"The political game for Strauss-Kahn in France is over. All his strongest supporters inside the party know about it," said Christian Malard, a journalist for broadcaster France 3.
"Now I don't mean he won't have a role -- I'm convinced that behind the scenes, behind the curtain, he will be a kind of godfather, a kind of referee, because it's still remembered by most of the Socialist voters, by the electorate, that he is the man who was definitely given as a strong potential winner for the next presidential election, beating Sarkozy in all circumstances."
Although he may retain some backstage influence, his image in the eyes of the broader French public is undoubtedly tarnished. A poll by Ipsos-Le Point published on Monday suggested only 28% of people held a favorable view of him.
Adele Smith, the New York correspondent for French newspaper Le Figaro, says he will also have a hard job winning support for a return to the global stage -- especially from Americans.
"They don't look at sexual relationships in the same way as we do in France, they have a more puritanical psyche," she said.
Whatever transpired in the Sofitel hotel suite in May -- and the truth of that encounter may never be known -- the future for Diallo, who lives in the Bronx area of New York with her 15-year-old daughter, is uncertain.
Having decided to give up the anonymity usually accorded to sexual assault accusers by the media, the 32-year-old Guinean stepped well and truly into the limelight with interviews last month for Newsweek magazine and ABC News.
This will make it very difficult for her to return to any kind of "normal" life, said the Rev. A.R. Bernard, of the Brooklyn-based Christian Cultural Center.
His New York megachurch, which is attended by Diallo's lawyer, Kenneth Thompson, has publicly backed Diallo, a Muslim. She appeared there with the pastor last month to address the press after giving up her anonymity.
"She is thinking through what she will do next, how she will continue her life," Bernard told CNN, saying he expected to speak to Diallo soon and that she did not yet know if her employers at the hotel would keep her on in light of Tuesday's news.
She took a big risk to speak out publicly, Bernard says, but it was motivated by the belief that the district attorney would eventually drop her case and she would be left with only the stigma of the claims against her.
"She told a compelling story," he said of Diallo. "It was not for me to judge -- the only reason I got involved was because I wanted fairness in the case and I felt she should be heard by a jury, and the district attorney shouldn't (be the one to) decide."
He sees what has happened in her case as damaging to all women, who may now fear that any past indiscretions will be used to discredit their claims of a crime against them -- and says the need for justice transcends questions of religious affiliation.
As for Diallo, he said, "she has not just physical healing necessary -- because there was medical evidence that she was assaulted -- but she also has a lot of emotional and spiritual healing that has to take place."
Diallo has not spoken publicly since District Attorney Cyrus Vance's decision, but her lawyer told CNN's Don Lemon Tuesday that she was "devastated" by it.
"She has told the truth about what happened in that hotel room," Thompson said. "She can't understand why Manhattan District Attorney Cyrus Vance would abandon her. She and her daughter have been crying through the night."
He added: "Clearly, the D.A. looked at Dominique Strauss-Kahn, his status, his power.
"If Dominique Strauss-Kahn was a bus driver from the South Bronx or a construction worker from Harlem or a plumber ... Do you think that Manhattan District Attorney Cyrus Vance would care what was in Miss Diallo's asylum application?"
Questions have been raised about Diallo's legal status in the United States in light of the claims by prosecutors that she lied on an asylum application and in tax filings. They also said she had claimed she was gang-raped by soldiers in her native country, but later admitted it never happened.
Defense attorney Bruce Barket, in New York's Garden City, told CNN she appeared to have "quite a problem," as the prosecutors' claims that she lied on federal forms could lead to her being prosecuted in Manhattan for false statements or perjury.
If she lied on her immigration papers, she could also face possible deportation, he said. Whether that is pursued may depend on whether the authorities choose to let the whole scandal die down or risk stirring it all up again as she defends her case, he added.
Meanwhile, lawyers for Strauss-Kahn say Diallo will face an uphill struggle to take forward the civil case against him, filed in the Bronx, in the weeks to come.
"She doesn't have much, if any, chance in a civil case," William Taylor told CNN's Piers Morgan on Tuesday night. "The same difficulties, the same lies will come back to haunt her in a civil case."
Smith, for Le Figaro, said Strauss-Kahn's lawyers seem to be gearing up for a big fight in the civil case, perhaps seeing that as a chance to restore his image.
But she doubts that Diallo will be deported if prosecutors' claims that she lied in her asylum application prove to be true, saying the political fallout for the New York authorities would be too great.
Much has been said to discredit Diallo and, at the same time, people are hurting too much as a result of the poor economy to care greatly about others, she said. But there is a little support for Diallo's plight among the city's residents.
"Whatever happens, people can't help looking at things through the racial, gender and class frame," she said.
"They can't help looking at it as a rich white guy who had sex -- forced or not forced -- with a poor black woman from the Bronx. For people here, it is outrageous."
CNN's Atika Shubert, Don Lemon and Saskya Vandoorne contributed to this report.