STORY HIGHLIGHTS
Mother-of-two watched as youths set trash cans alight outside her home and pelted police
The confrontation between rioters and law enforcement officers lasted well over an hour
Teenage looters ran past her home in Hackney carrying armfuls of stolen goods
She fears the unrest may change people's view of the neighborhood
London (CNN) -- Graciela Watson watched aghast from her home in Hackney Monday as "yobs" barricaded her normally quiet residential street with burning trash cans and clashed repeatedly with police.
She had witnessed tension building as she made her way home in the afternoon, having to take a different route than usual with her two children -- both under three -- to avoid crowds of people throwing missiles.
"We didn't think it would come up our street, but it started here," she said. Troublemaking youths, or yobs, gathered trash bins from outside the houses on the street and set them alight to form flaming barricades, she said.
"That's when we realized trouble was coming our way," Watson, a filmmaker and former journalist said.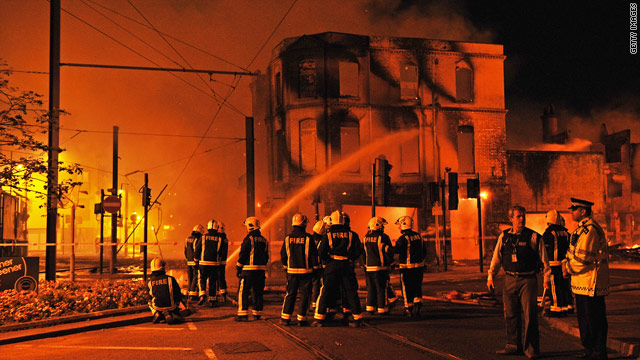 Gallery: Riots spread across London and the UK

Cameron: We will defeat rioters

When will London riots end?

Why riot in London?
The youths then set fire to a van and soon the clashes with police began in earnest, carrying on in her street for well over an hour.
Meanwhile, asleep at the back of the ground floor apartment were Watson's two young children, and there was no way for the family to leave the apartment except by the front door.
"It was kind of strange," Watson said. "You are scared but there's also a very strange kind of adrenaline almost, as you watch everything unfold in front of you.
"Watching on the TV, hearing your street being named, seeing your neighborhood in flames around you -- you are terrified but almost excited at the same time."
The disturbances were centered on the neighboring Pembury Estate, a social housing project in the east London area of Hackney.
Police reported 250-300 people gathered there Monday night, setting cars on fire and throwing petrol bombs, while on nearby Mare Street businesses were looted.
Watson watched as young men tore bricks from the front wall of her yard and hurled them and planks of wood at police. "It seemed like a war zone," she said. "There were yobs pushing police back and police pushing yobs back."
Once the police had managed to drive their assailants away, what seemed to be younger looters -- many of them teenagers -- continued to run through the street clutching bags of goods stolen from local shops until 12:30 or 1 a.m., she said.

'We're going to set fire on the bus'

London violence spreading to suburbs

Injured man mugged in London
"They were taking whatever they could and running around with it," she said. "There was an atmosphere almost of carnival from the yobs. They were enjoying it, laughing, it was as if they were having a really good time."
She saw some of the youths urinating in doorways as they rampaged past with looted goods. "It was absolute lawlessness, they had completely lost control of themselves -- they were like animals."
At about 5 a.m., local authority workers came to clear up the debris and sweep away the shattered glass, leaving few traces of the night's rampage apart from three smashed-up cars, Watson said.
She is hoping it was "just one night of madness" and that Hackney will remain calm Tuesday night.
"If it happens again tonight, I will seriously consider taking my family and leaving the house," she said. "I just don't think we can subject ourselves to that."
And she fears other families may not now feel safe in Hackney, which has seen a previously troubled image largely rehabilitated in recent years.
As in other east London areas, its residents had hoped to see a beneficial spillover effect as a result of investment in infrastructure ahead of the London Olympics next year.
But as reports of rioting elsewhere emerged during the weekend, she and her neighbors had shared a sense of foreboding that they would not escape the trouble -- and it proved all too correct.
"Hackney was almost waiting for an excuse for something like this," she said. "I'm thinking about leaving the area full stop."
FOLLOW THIS TOPIC