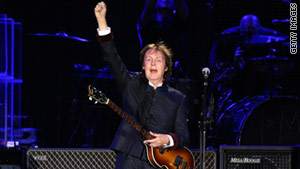 "Apparently, I have been hacked," musician Paul McCartney said Thursday.
STORY HIGHLIGHTS
McCartney calls hacking "a horrendous violation of privacy"
Mills says a journalist admitted hacking her voice mails
Piers Morgan says the alleged hacker was not a Daily Mirror employee
(CNN) -- Music superstar Paul McCartney plans to ask police to investigate whether he was a victim in Britain's phone-hacking scandal.
The former Beatle plans to contact the authorities after his American tour ends "because apparently, I have been hacked," he said.
"I think it is a horrendous violation of privacy, and I do think more people than we know knew about it," he said Thursday via from Cincinnati, where he was to perform a concert.
McCartney declined to provide additional detail, saying he "should just listen and hear what the facts are before I comment" further.
His comments came a day after his ex-wife, Heather Mills, told the BBC that a journalist told her that voicemails McCartney left for her had been hacked.
She said that a senior journalist for Trinity Mirror Group Newspapers once asked her about an argument she had with McCartney in 2001, before they married, the BBC said.
When she asked how the journalist would know about the argument, the journalist "started quoting verbatim the messages from my machine."
Mills said she told the journalist, "you obviously hacked my phone" and said, "if you do anything with this story," she would contact police.
"They were obviously very private conversations about issues we were having as a couple," she said.
She said the journalist then answered, "OK, OK. Yeah, we did hear it on your voice messages. I won't run it."
It was not clear whether McCartney was referring to Mills' claims or hacking of his own voicemail.
The phone-hacking scandal that erupted this summer has rocked the British public's trust in the media, the police and the political establishment.
Police have made several arrests as they investigate claims of phone hacking and bribery by staff at the now-defunct News of the World newspaper, which was run by News International, the British subsidiary of Rupert Murdoch's News Corp. media empire. The scandal has led to the resignation of executives at News International, the News of the World's parent company, and of senior police officers.
Journalists from News of the World stand accused of hacking into the voicemail of people ranging from celebrities to crime victims, and of bribing police.
The scandal has raised questions about whether other news organizations also engaged in misconduct.
Among those under scrutiny is CNN talk show host Piers Morgan, who at one time was the editor of the Daily Mirror, part of the Trinity Mirror.
In an article he wrote for the Daily Mail during the couple's messy divorce proceedings in October 2006, Morgan made reference to a recorded message from McCartney to Mills. He noted that he had introduced McCartney to Mills at the Mirror's Pride of Britain Awards in 1999, and "before I knew it they'd fallen in love."
"Stories soon emerged that the marriage was in trouble -- at one stage I was played a tape of a message Paul had left for Heather on her mobile phone. It was heartbreaking," he wrote.
"The couple had clearly had a tiff, Heather had fled to India, and Paul was pleading with her to come back.
"He sounded lonely, miserable and desperate, and even sang 'We Can Work It Out' into the answer phone."
"There was absolutely no honest way that Piers Morgan could have obtained that tape that he has so proudly bragged about unless they had gone into my voice messages," Mills told the BBC.
Morgan replied in a statement that Mills was making "unsubstantiated claims about a conversation she may or may not have had with a senior executive from a Trinity Mirror newspaper in 2001."
Trinity Mirror is the parent company of Mirror Group Newspapers, which publishes the Daily Mirror.
In a statement, the company denied wrongdoing.
"Our position is clear: All of our journalists work within the criminal law and the Press Complaints Commission code of conduct," it said.
Morgan said the BBC has confirmed to him "this executive was not employed by the Daily Mirror" and added that he has "no knowledge of any conversation any executive from other newspapers at Trinity Mirror may or may not have had with Heather Mills." CNN has independently confirmed that exchange between the BBC and Morgan.
Morgan said McCartney has asserted that "Mills illegally intercepted his telephones, and leaked confidential material to the media. This is well documented, and was stated in their divorce case.
"Further, in his judgment, The Honourable Mr. Justice Bennett wrote of Heather Mills: 'I am driven to the conclusion that much of her evidence, both written and oral, was not just inconsistent and inaccurate but also less than candid. Overall she was a less than impressive witness.'
"No doubt everyone will take this and other instances of somewhat extravagant claims by Ms. Mills into account in assessing what credibility and platform her assertions are given."
Also in his statement, Morgan reiterated that he "never hacked a phone, told anyone to hack a phone, nor to my knowledge published any story obtained from the hacking of a phone."
Morgan's 2006 article also caught the attention of the committee that is looking into the hacking scandal in Parliament.
"These allegations are very strong," Therese Coffey, a member of the Culture, Olympics, Media & Sport Select Committee, told the BBC on Wednesday. "If Mr Morgan wants to come back to the UK and help them with their inquiries, and I don't mean being arrested in any way, then he can add more light.
"I think it would help everybody, including himself and this investigation, if he was able to say more about why he wrote what he did in 2006," she added.
Morgan worked for News Corp. as editor of the News of the World from 1994 to 1995 and served as editor for the Daily Mirror, a paper not owned by Rupert Murdoch, from 1995 to 2004. The 46-year-old British talk-show host has had a nightly program on CNN since earlier this year.