Lawmaker apologizes to Piers Morgan over phone hacking comments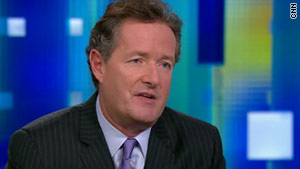 CNN host Piers Morgan worked for News Corp. as editor of the News of the World from 1994 to 1995.
STORY HIGHLIGHTS
Louise Mensch says she misread an article about Piers Morgan's book
She said she wrongly stated he had been open about hacking phones
Morgan hosts a CNN show and is a former tabloid editor
He accepts the apology, he says on Twitter
(CNN) -- A British lawmaker has apologized to CNN host and former tabloid editor Piers Morgan for wrongly stating that he "had been open about personally hacking phones" in his memoir.
Conservative member of Parliament Louise Mensch said in a letter that she had misread an article in the Daily Telegraph on which she based her allegation. The Culture, Media and Sport Select Committee released the correspondence Friday.
"Therefore, I must apologise to Mr. Morgan and the Committee for this error about his book," Mensch wrote.
Morgan posted on Twitter: "Apology graciously accepted @LouiseMensch - thank you."
Mensch made the allegation at a committee hearing this month, on the same day that Rupert and James Murdoch and Rebekah Brooks testified.
Journalists from Murdoch's News of the World stand accused of hacking into the voice mail of potentially thousands of people and of bribing police. The scandal has rattled the foundations of the British press, police and political establishments.
Morgan rejects accusation of phone-hacking involvement
Mensch had suggested to her fellow lawmakers that Morgan should be questioned about phone hacking.
"As a former editor for the Daily Mirror, he said in his book 'The Insider' recently, and I quote, 'that little trick of entering a standard four-digit code allows anyone to call that number and hear all your messages,'" she had said at the hearing.
"In that book he boasted that using that little trick enables him to win scoop of the year for a story about (former England national soccer team manager) Sven-Goran Eriksson," Mensch had said. "So that is a former editor of The Daily Mirror being very open about his personal use of phone hacking."
In her apology Friday, Mensch said: "The Telegraph report covers the claim of a blogger that this story was acquired by phone hacking, and I misread that as Mr. Morgan himself claiming this to be true."
Morgan had called Mensch's allegation "complete nonsense" and accused her of abusing parliamentary privilege. He had demanded an apology, but Mensch initially refused.
"I feel no need to apologize," she said then. "As I said, I refer American journalists to what I said in the select committee, and I'm quite perfectly content to stick with that."
Morgan worked for News Corp. as editor of the News of the World from 1994 to 1995 and served as editor for the Daily Mirror, a paper not owned by Rupert Murdoch, from 1995 to 2004. The 46-year-old British talk-show host replaced Larry King on CNN early this year.
The phone hacking led to the shuttering of News of the World, which published its last edition July 10. It also prompted two top police officers to resign and has put pressure on British Prime Minister David Cameron, who hired a former editor of the newspaper to be his spokesman.
FOLLOW THIS TOPIC


Part of complete coverage on

Damaging allegations over phone hacking are continuing to mount against Rupert Murdoch's media empire.

It's the slap that's been heard around the world: Wendi Deng Murdoch putting herself between her husband Rupert Murdoch and a protester armed with a shaving cream pie.

The phone-hacking scandal began two years ago as a lonely newspaper crusade in London, but the story has taken the world by its ear.

UK lawmakers are doing the right thing in severing their ties to the Murdoch empire, says academic Steven Barnett.

Piers Morgan, a former editor of two British tabloid newspapers calls allegations that he participated in phone hacking "nonsense."

Rupert Murdoch's wife Wendi Deng becomes a sensation on Twitter after pouncing to slap down a pie attack on her husband.

CNN's minute-by-minute coverage of the phone hacking hearings as they happened.

Rupert Murdoch is the last of a dying breed: An old-fashioned press baron, a tough businessman with a hunger for the next big story.


Most popular stories right now