STORY HIGHLIGHTS
Phone hacking by British journalists now has global consequences
The world's best-selling English newspaper is shut down by it
Prime Minister David Cameron's position is threatened, and two top British police officers resign
Rupert Murdoch fights to retain control of his media empire, News Corp.
Watch UK lawmakers question Rupert Murdoch, James Murdoch and Rebekah Brooks live from 1:30 p.m. GMT / 9:30 a.m. ET Tuesday on CNN.com and also via CNN Apps including iPhone, iPad, Android and selected Nokia devices. Also watch lawmakers question leading members of the Metropolitan Police including former chief Paul Stephenson from 11 a.m. GMT / 7 a.m. ET Tuesday.
(CNN) -- News Corp founder Rupert Murdoch, his son James and former News of the World editor Rebekah Brooks are due to testify Tuesday before British lawmakers investigating the phone-hacking scandal.
What is the phone-hacking scandal all about?
British journalists working for Rupert Murdoch's News of the World are accused of hiring private detectives to hack illegally into the voice mails of thousands of people, ranging from top politicians and celebrities to murder victims and the families of fallen troops.
There are also allegations that journalists bribed police to get private details about people, including members of the royal family.
The scandal has exploded in recent weeks, prompting the closure of the News of the World, forcing Britain's top policeman to resign, threatening Murdoch's control of his News Corp. media empire, and raising serious questions about Prime Minister David Cameron's judgment.
London's Metropolitan Police -- also known as Scotland Yard -- are running two investigations, one into the phone-hacking allegations and one into the charges of bribery.
Separately, Cameron has announced a public inquiry into the ethics and methods of the British press.
When did all this phone hacking happen?
Several years ago.News of the World royal correspondent Clive Goodman and private investigator Glenn Mulcaire pleaded guilty to phone hacking in 2007 and went to prison for it.
When police arrested Mulcaire, they seized 11,000 pages of documents with the names of 3,870 potential victims of illegal eavesdropping. The files apparently cover several years of activity up to when Mulcaire was arrested in 2006.

Murdoch: The man behind the empire

Hacking scandal compared to Watergate

Rusbridger on paper's hacking scoops
So why is all this coming out now?
Two newspapers, the New York Times and the Guardian, have been doggedly reporting on the case for years, keeping it in the public eye.
And many politicians and celebrities have demanded to know if their names were in Mulcaire's files. Some sued News International, which publishes the News of the World.
The pressure prompted the Met to open a new investigation in January, and officials began going through Mulcaire's files and notifying people whose names are in them.
On July 4, the family of a murdered teenage girl, Milly Dowler, announced that her phone had been hacked when she was missing in 2002. They said the hackers had deleted messages from her voice mail to make space for more, giving them hope she was still alive when she was already dead.
Public and political outrage in Britain was immediate and intense, and it only got worse over the next two days as it emerged that victims of a terror bombing and the families of fallen British troops had also been possible targets.
Less than a week after the Milly Dowler accusation, the Murdoch family announced it was closing News of the World.
Why does News of the World matter?

Closing News of the World was a seismic event in British journalism -- it was the best-selling English-language newspaper in the world, shifting something on the order of 2.5 million copies every week.
And the 168-year-old paper could prove to be the canary in a coal mine of Rupert Murdoch's global media empire. Analysts are questioning whether the scandal will lead to the Murdoch family losing control of News Corp., bringing down one of the most powerful media barons the world has ever seen.
Is this important outside of the United Kingdom?
Yes. The scandal is spreading, and American authorities are probing two separate lines of inquiry -- one into whether Murdoch journalists hacked the phones of September 11, 2001, victims, and one into whether the company broke U.S. law by bribing foreign officials.
The Federal Bureau of Investigation is looking into the 9/11 claim, first floated by the Daily Mirror newspaper, a competitor to Murdoch's Sun in Britain.
The Justice Department, meanwhile, is coming under pressure from American lawmakers to probe whether the company violated the Foreign Corrupt Practices Act by paying British police officers for information.
Australia -- where Murdoch was born and still owns newspapers -- is also considering an investigation.
Even if the company is not found to have broken laws, the scandal is shaking all of News Corp., holdings of which spans the globe
Murdoch's company encompasses Fox News, 20th Century Fox film studios, the Wall Street Journal, the New York Post and Harper Collins publishers. It also controls satellite broadcasters including BSkyB in Britain, plus Sky channels in Italy and Germany, and newspapers including the Sun and the Times.
Who is Rebekah Brooks?
Brooks was editor of News of the World when the alleged hacking of Milly Dowler's phone took place. She went on to become chief executive of the company that published the paper, News International.
A close confidant of the Murdoch family, she became the focus of much public and political anger when the scandal caught fire. Rupert Murdoch first insisted his top priority was to protect her, but he accepted her resignation 11 days after the Dowler allegations were first made.
She was arrested two days later, questioned for nine hours, and released on bail.
Her lawyer insisted the following day that she is not guilty of any crime and that police had not charged her.
Why is Prime Minister Cameron being criticized?
His former communications director, Andy Coulson, was editor of News of the World when Goodman and Mulcaire went to prison. (Coulson replaced Brooks when she became editor of the Sun, Murdoch's daily tabloid.)
Coulson always insisted he did not know about Goodman and Mulcaire's crimes before they pleaded guilty, but quit because he was in charge when they happened.
He worked for Cameron until the police launched their new phone-hacking investigation in January, then resigned, still protesting his innocence, but saying he had become a distraction for the prime minister.
Critics have slammed Cameron's judgment in hiring Coulson since public outrage took off, but the prime minister has repeatedly insisted that he felt Coulson deserved "a second chance."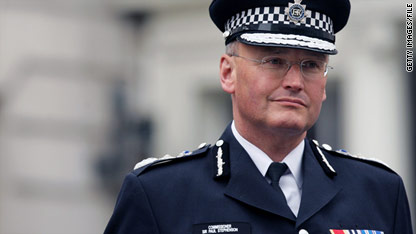 London's top cop resigns

UK senior officer resigns amid scandal

Is Murdoch's empire falling apart?
Why did Britain's top policeman resign?
Not just one but two of the top officers at the Metropolitan Police have quit amid accusations that the police were at the very least too cozy with the press and at worst corrupt.
Paul Stephenson, the head of the Met, resigned after it was revealed that Scotland Yard had hired a former top News of the World journalist to be a communications consultant. The revelation came the day police arrested the journalist, Neil Wallis, over the phone-hacking investigation.
Stephenson insisted he had done nothing wrong, and unleashed a blistering attack on Cameron when he quit, saying: "Unlike Mr. Coulson, Mr. Wallis had not resigned from News of the World or, to the best of my knowledge been in any way associated with the original phone hacking investigation."
The day after Stephenson quit, Assistant Commissioner John Yates handed in his resignation. He was the one who decided in 2009 that there was no need to open a new police investigation into phone hacking despite the 11,000 pages of evidence sitting at Scotland Yard -- a decision he later admitted to Parliament was "crap."
FOLLOW THIS TOPIC