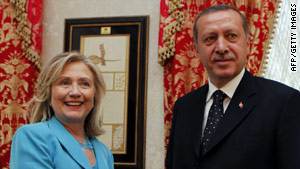 Secretary of State Hillary Clinton stands with Turkish Prime Minister Tayyip Erdogan.
STORY HIGHLIGHTS
NEW: The U.S. secretary of state arrives in Greece after meeting Turkish prime minister
Clinton praises the Turkish economy and the government's leadership in the region
She urges improvements in human rights, freedom of expression
Turkey was Clinton's first stop on a 12-day trip, with China and India upcoming
Istanbul, Turkey (CNN) -- U.S. Secretary of State Hillary Clinton, while praising Turkey's rise as a regional and economic power, on Saturday urged the government to improve its record on freedom of expression and equal protection for all citizens.
Speaking at a live talk show hosted by CNN Turk, CNN's sister network, the diplomat expressed concern about the reported jailing of about 50 journalists.
"I do not think it's necessary or in Turkey's interest to be cracking down on journalists and bloggers and the Internet, because I think Turkey is strong enough and dynamic enough" to allow debate, she said at the "Coffee Break With Hillary Clinton" show.
"I do think this is an area that deserves attention from citizens, from lawyers, because it seems to me inconsistent with all the other advances that Turkey has made," she added.
As Turkey continues accession talks with the European Union, Clinton said, the country has an opportunity to ease restrictions on certain groups and bolster protection for minorities.
Turkey has been gradually improving its record with the gay and lesbian community as it makes changes to conform to EU policy on human rights laws.
By late Saturday night, Clinton had arrived in Athens, Greece. Her flight west capped a whirlwind day in Turkey that included meetings with U.S. consulate employees, Ecumenical Patriarch Bartholomew I and Turkish political leaders.
During her visit, she also expressed condolences for the deaths Thursday of 13 Turkish soldiers.
The government blamed the hostilities on the Kurdistan Workers' Party, or PKK, a separatist movement regarded as a terrorist group by Turkey, the United States and other entities.
Clinton met with several Turkish leaders, including Prime Minister Recep Tayyip Erdogan. In these meetings, she discussed Turkey's economy, the opportunities for women and the young and the fact trade between Turkey and the United States had increased about 50%, she said.
The U.S. secretary called Turkey "one of the most exciting places in the world" and described its straddling of East and West as "an incredible advantage."
Clinton and Turkish government officials also discussed crises elsewhere in the region.
The United States just recognized the main opposition group in Libya "as the legitimate governing authority" in a country that Moammar Gadhafi has long ruled with an iron fist.
Turkish Foreign Minister Ahmed Davutoglu and Clinton also discussed unrest and large demonstrations in Syria.
"Stability inside Syria is important for Turkey," Clinton said at the coffee break. "But the right kind of stability -- a transition to democracy -- is what would be best for Turkey and even more importantly what would be best for the Syrian people."
In the past year, the relationship between Washington and Ankara has improved dramatically and, U.S. officials would argue, is in a pretty strong place. There are few major international issues where Turkey and the United States are not working closely together, such as the uprisings in North Africa and the Middle East, Afghanistan, counterterrorism, energy and the global economy.
Clinton's 12-day trip continues now in Greece, followed by stops in India, Indonesia and China.
CNN's Elise Labott contributed to this report.