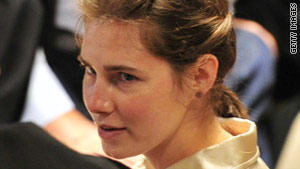 DNA evidence may help in the case of Amanda Knox who is appealing her conviction in the murder of Meredith Kercher.
STORY HIGHLIGHTS
Forensic specialists tell an Italian court that police DNA findings are not reliable
Evidence involved in Knox's conviction could have been contaminated, experts say
Amanda Knox and ex-boyfriend Rafaele Sollecito are appealing their convictions
They were found guilty of murdering Meredith Kercher in Perugia in 2009
(CNN) -- American student Amanda Knox's bid to overturn her conviction for the murder of her British roommate in Italy may have been given a boost by fresh DNA analysis.
Forensic specialists told a court in Perugia, Italy, that evidence linking her to the alleged murder weapon was unsound.
Meredith Kercher was found stabbed to death in 2007 at the house she shared with Knox in Perugia, the central Italian town where both were students. Kercher was found semi-naked and her throat had been slashed.
The court-appointed forensic experts reviewed police findings that identified DNA from both Knox and Kercher on a knife found at the home of Knox's ex-boyfriend Rafaele Sollecito, and traced DNA on Kercher's bra to Sollecito.
They said that while they agreed Knox's DNA was present on the knife handle, tests for Kercher's DNA were unreliable.
"There is no conclusive scientific evidence regarding the nature of the blood," forensic professors Carla Vecchiotti and Stefano Conti said in a 146-page report.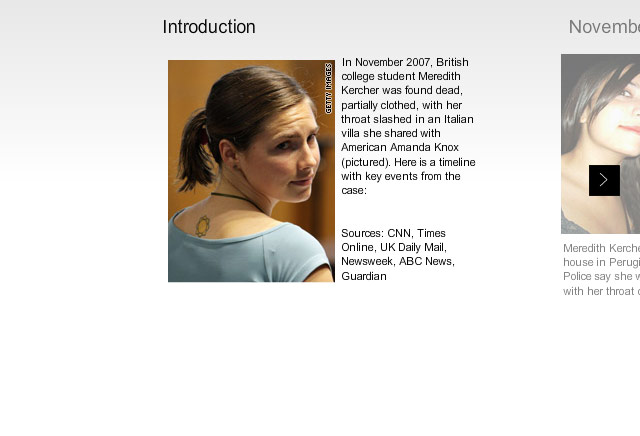 Timeline: Amanda Knox case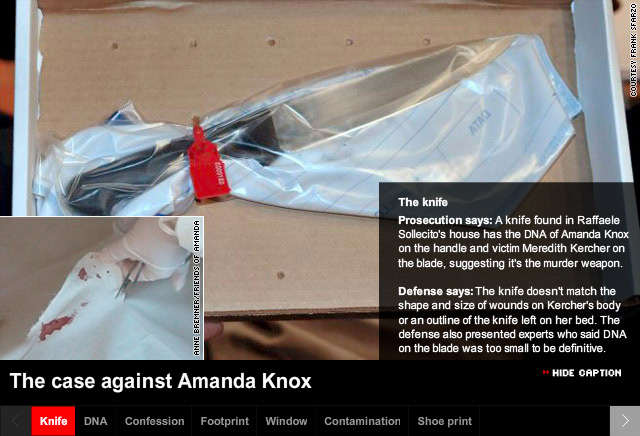 The evidence against Knox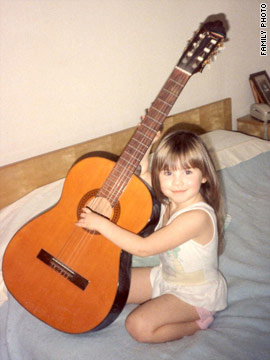 Gallery: Amanda Knox's childhood
The report concluded that "it cannot be excluded that the result obtained from sampling the find B (knife blade) could be the result of contamination" occurring at any stage of the testing process.
Its authors also said investigators did not follow "international inspection procedures and protocols for gathering and presenting evidence" in testing either the knife or the bra fastening.
Defense lawyers for Knox, 23, and Sollecito, 27, argue that the DNA evidence involved in their 2009 conviction was contaminated during the police investigation.
That evidence includes the knife found in Sollecito's apartment with Knox's DNA on the handle and what Perugia prosecutors say is Kercher's DNA in a tiny groove on the blade.
The prosecution contends that the knife was used to stab Kercher in the neck and that it had been cleaned. The DNA matter attributed to Kercher consists of flesh, not blood, they say.
The sample, however, was so small that forensic scientists investigating Kercher's murder were not able to double-test it in accordance with international forensic science norms, which Knox's legal team says raises doubts about its validity.
Defense lawyers also say the tiny metal clasp from Kercher's bra, which was cut from her body after her murder, may have been contaminated because it was not collected as evidence until nearly six weeks later.
In an appeal hearing Monday, Knox took to the stand herself following testimony from a third person convicted in the case, Rudy Guede.
Guede, who was found guilty of murder in a separate fast-track trial and sentenced to 16 years, refused to say Knox was not involved in the killing. A prosecutor then read out a letter sent by Guede in 2010 in which he said he thought the American and her then-boyfriend had killed Kercher.
An emotional Knox responded, saying: "The only time that Rudy Guede, Raffaele Sollecito and I were in one room together was in a court room.... He knows what the truth is. I don't know what happened that night."
It was the first time the three people convicted of the crime had appeared in court together since a preliminary hearing years ago.
The next court hearing is due on July 25, with further hearings on July 30 and August 1.
Journalist Livia Borghese contributed to this report.
FOLLOW THIS TOPIC