Timeline: Greece's financial crisis
STORY HIGHLIGHTS
Greece's financial crisis threatens to destabilize the entire eurozone
Reckless spending and borrowing left Greece on the brink of financial ruin
A 110 billion euro bailout package last year failed to end Greece's economic problems
(CNN) -- Greece's economy has been in a mostly downward spiral since the country joined the euro in 2001.
While their eurozone peers had expressed their concern about the state of the Greek economy for years, it wasn't until the global financial crisis hit that the depth of the problem was revealed.
Years of reckless spending and borrowing had left Greece on the verge of financial ruin by the beginning of 2010 -- not to mention in flagrant violation of inflation and deficit limits set by the European Central Bank.
Despite last year's €110 billion bailout and the introduction of harsh austerity measures, the country has been unable to balance its books.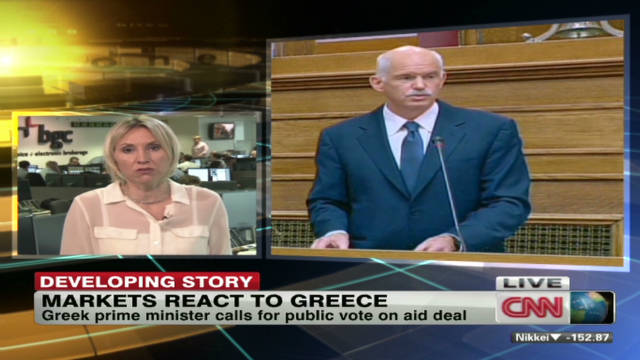 Greece calls surprise bailout vote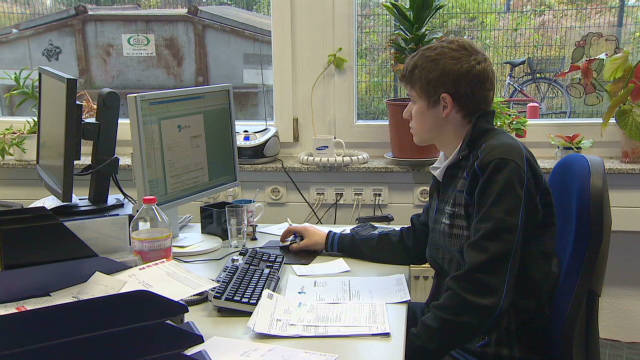 Germany braces for eurozone trouble
European leaders' decision in mid-summer to approve a second Greek bailout package also failed to calm international lenders' fears that the cash-strapped country may default on its sovereign debt -- an outcome that would have global implications.
EU Commissioner Ollie Rehn said of the situation: "A default by Greece or its exit from the eurozone would carry dramatic costs for Greece, the region and the global economy."
On October 27, EU leaders got Greek bondholders to voluntarily agree to a 50% "haircut" or write-down of Greek debt -- slashing the country's debt bill by €100 billion -- as part of a three-pronged plan aimed at shoring up Greece's financial future, returning stability to Europe's banks and expanding the EFSF bailout fund's resources to more than €1 trillion.
But less than a week later, Greek Prime Minister George Papandreou shocked the world by calling for a national referendum on international aid for his country -- despite already agreeing in principle to implement reforms in order to meet Greek bondholders' terms -- which, if rejected, could lead to a Greek default and the country's exit from the euro.
CNN takes a look at the key moments of the Greek financial crisis.

Part of complete coverage on

CNN takes a look at the key moments of the Greek financial crisis, from eurozone accession to recent protests and austerity measures.

Fourteen EU countries had public debt exceeding 60% of their GDP at the end of 2010, according to official statistics.

Experts are divided over whether Greece could leave the single European currency, but the consequences would be significant.

As the European debt crisis appears to be coming to a head again, here are five key issues to keep an eye on.

CNN's Max Foster talks to economist Joseph Stiglitz about the financial crisis in Europe and what needs to be done.

In a bid to stave off a default, Europe's third-largest economy is calling out to China for help.

As Greece falls, many are wondering how the rest of the European sovereign debt crisis will play out.


Most popular stories right now