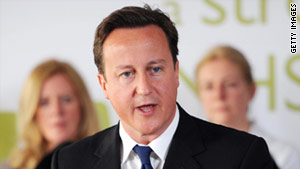 UK Prime Minister David Cameron says time is "running out" for Libyan leader Moammar Gadhafi.
STORY HIGHLIGHTS
UK PM David Cameron says United Kingdom "can sustain this mission as long as we need to"
UK Navy chief said Monday an extended mission in Libya could impact operations elsewhere
The United Kingdom faces defense spending cuts of 8% by 2015
Real costs of involvement in Libya hard to pin down
(CNN) -- Prime Minister David Cameron insisted Wednesday the United Kingdom's military involvement in Libya can continue "as long as we need," amid questions over whether the United Kingdom has the resources to meet its commitments.
He also said time was "running out" for Libyan leader Moammar Gadhafi as he came under increasing pressure from the international community.
Cameron spoke two days after the head of the British Navy, First Sea Lord Admiral Sir Mark Stanhope, warned that the force might not be able to sustain its operations in Libya for another three months without scaling back efforts elsewhere.
Britain has played a major role in Libya, providing aircraft, ships and military personnel for sorties made as part of a NATO-led operation to enforce a U.N. resolution calling for the protection of Libyan civilians from forces loyal to Gadhafi.
But Stanhope's comments Monday sparked fresh arguments over controversial UK defense cuts, coming less than a week after U.S. Defense Secretary Robert Gates highlighted major shortcomings in NATO allies' defense capabilities.
Speaking at a media briefing, Stanhope asked: "How long can we go on as we are in Libya?
"Certainly in terms of NATO's current time limit that has been extended to 90 days, we are comfortable with that. Beyond that, we might have to request the government to make some challenging decisions about priorities."
He continued: "If we do it longer than six months we will have to reprioritize forces. That is being addressed now. It could be from around home waters. I will not prejudge what that decision will be."
Responding to a question on the issue in Parliament, Cameron said he had met with Stanhope Tuesday.
"He agreed that we can sustain this mission as long as we need to," Cameron said of the Navy chief. "And that is exactly the words the chief of the defense staff used yesterday."
The prime minister went on: "Time is on our side. We've got NATO, we've got the United Nations, we've got the Arab League.
"We have right on our side. The pressure is building militarily, diplomatically, politically, and time is running out for Gadhafi."
Chief of the Defence Staff General Sir David Richards told the BBC Tuesday: "[Adm. Stanhope] was actually answering a different question that's been misconstrued, but we can sustain this operation as long as we choose to, absolutely clear on that."
Nonetheless, the UK military faces a challenge to engage in Libya, Afghanistan and elsewhere while grappling with an 8cut in defense spending by 2015.
Last year's Strategic Defence and Security Review controversially ordered the scrapping of the flagship aircraft carrier HMS Ark Royal and its fleet of Harrier jump jets, leaving the United Kingdom without a working aircraft carrier for close to a decade.
Speaking to reporters Monday, Stanhope said it would have been quicker and cheaper to fly sorties over Libya from Ark Royal had it still been in service, although he insisted he was not calling for the defense and security review to be revisited.
In response, Defence Secretary Liam Fox stressed that the United Kingdom had the fourth-largest defense budget in the world, and its military had "been able to effectively conduct missions over Libya."
However, his opposition counterpart, Jim Murphy, told UK media that Stanhope's comments were a signal to the government that it should reconsider its defense cuts in light of events in Libya.
Cameron said Wednesday he stood by the government's military review -- the first such in a decade -- saying: "We have superb armed forces, superbly equipped, and they are doing a great job in the skies above Libya."
Dr. Alexis Crow, a security and defense specialist at the UK's Chatham House thinktank, said she believed Stanhope's remarks reflected infighting between the different services over defense cuts resulting from the review.
She told CNN it was "absolutely ludicrous" to suggest the United Kingdom might not be able to sustain its current military commitments.
Meanwhile, exact figures for the cost so far of the United Kingdom's involvement in Libya are hard to pin down.
Professor Malcolm Chalmers, a UK defense policy expert at the Royal United Services Institute in London, told CNN he believed the cost to the United Kingdom since it entered the fray in mid-March exceeded £100 million ($164 million) and could be heading towards £200 million ($328 million).
But the total figure may not be known until the Ministry of Defence presents the Treasury with a bill for expenditures over and above the usual operating costs of the military, he said.
Figures put forward by the UK government suggest a smaller outlay, with Chancellor George Osborne telling parliament in the early days of the conflict that it could run to "tens of millions" of pounds.
Answering a parliamentary question last week, Armed Forces Minister Nick Harvey provided some of the first official numbers, although he said it was too early to give a "robust estimate of the final costs."
He put the bill for precision-guided weapons used by the United Kingdom in Libya at £6 million a week over the first seven weeks of the conflict, with housing, fuel and other costs adding some £715,000 more to the weekly bill.
He expected the cost of UK operations in Libya "to be modest in comparison to other operations such as Afghanistan," he said.
Britain's Ministry of Defence is reluctant to release detailed breakdowns of munitions used in Libya, citing security reasons.
A ministry press officer told CNN that as of June 8, UK forces involved in operations in Libya had flown more than 3,500 hours, equating to 1,200 sorties.
Aircraft in use include RAF Tornados, Typhoons and Apache helicopters, as well as Sentry, Sentinel and Nimrod surveillance aircraft, and VC-10 tankers, while the Navy has deployed frigates, destroyers and mine-hunting vessels.
Munitions used include Storm Shadow cruise missiles, Paveway II and IV bombs and Hellfire missiles, as well as Tomahawk cruise missiles fired from the submarine HMS Triumph.
The Ministry of Defence declined to disclose the number and cost of each type of weapon deployed, but news reports suggest the Storm Tomahawks cost about £1 million apiece.
Chalmers said Stanhope was making the point that if the United Kingdom's involvement in Libya continued for a significant period of time, then its naval commitments elsewhere would have to be reconsidered.
"We have a limited number of ships and they cannot be in more than one place at once," he said.
A continuation of the Libya mission beyond the 90 extra days agreed by NATO on June 1 could impact such Navy operations as training exercises in the Persian Gulf, patrols around the South Falklands and anti-piracy efforts, Chalmers added.
Crow at Chatham House said the real question was whether the United Kingdom would be able to provide the resources needed for nation-building in Libya further down the line -- if Moammar Gadhafi's regime fell -- given its commitments in Iraq and Afghanistan.
The issue of defense spending by NATO members was highlighted by Gates last week in his farewell speech to the NATO Council in Brussels.
He warned then that the alliance risked the "very real possibility of collective military irrelevance" if all its members did not step up to share the burden, saying operations in Afghanistan and Libya had already exposed how much NATO relied on U.S. resources.
CNN's Kristen McCrae contributed to this report
FOLLOW THIS TOPIC