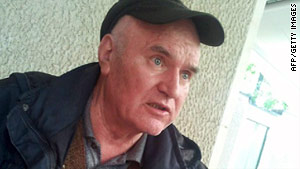 An undated picture provided by the Serbian Press Daily shows Ratko Mladic
STORY HIGHLIGHTS
Ratko Mladic was found standing against a wall in a utility room
Officials found Mladic in Lazarevo, Serbia, after culling information from sources
More than 68% of Serbs do not consider The Hague tribunal just
53% of the population disagreed that Mladic should be extradited to that court
Belgrade, Serbia (CNN) -- When police burst into the garden of the small house in northern Serbia where Europe's highest-ranking war crimes suspect had been hiding, the former Bosnian Serb general was found standing against a wall in a utility room normally used for storing farm equipment, a government minister told CNN.
Ratko Mladic -- the target of a near 16-year manhunt -- gave himself up without a fight, despite being in possession of two handguns, according to Rasim Ljajic, the minister in charge of searching for fugitive suspected war criminals.
Officials located Mladic in a village called Lazarevo, north of the Serbian capital, after culling information from his former comrades, those who supported him financially and his close family members, Ljajic said.
It is not clear what source led investigators to the former military commander, accused of ordering the 1995 massacre of some 8,000 Muslims in the eastern Bosnian town of Srebrenica.
While his arrest clears a major hurdle that once stood between Serbia and its long-awaited entrance into the European Union, the move could also usher in political backlash from the country's electorate, some of whom consider Mladic a hero.
"We're conscious of this danger," Ljajic told CNN. "We know we did something that didn't bring us joy or applause from the public. But we also know that we took great responsibility and did something that the political elite of any country is supposed to do."
He called Mladic's capture "a political investment," noting the government's desire to bring the war crimes suspect to justice "even if citizens punish us in the next elections."
Upon his arrest, the former general appeared polite and even offered his own expired identity card, unlike the forged documents often presented by other war crimes suspects, Ljajic said.
Yet his capture was seen as a considerable surprise, even to those searching for him.
Previous attempts to catch Mladic, which have been numerous, all failed. Ljajic also noted a lack of confidence among his few domestic backers and the swath of international figureheads who have long called for Mladic's arrest.

Mladic: A ruin of a man?

Mladic captured after 16 years
"The minority that supported our cooperation with the Hague tribunal was critical of us because they thought we were unsuccessful," Ljajic said, countering that argument by pointing to the extradition of 44 suspects to the U.N. War Crimes tribunal at The Hague, in the Netherlands.
"Our work was discredited, ridiculed and received very cynical comments."
Serbian officials "did this job almost without any sincere support even from those who believed we should cooperate," he added, alluding to critics who claimed Serbia sheltered the ex-general for more than a decade and a half.
The massacre at Srebrenica, which sparked international outcry and preceded a NATO bombing campaign, is now remembered as the worst atrocity in Europe since World War II.
Mladic allegedly presided over the five-day slaughter in July where Muslim men and boys were systematically executed in what was described at the U.N. war crimes tribunal as "the triumph of evil."
On the eve of the slaughter, Mladic broadcast a message on state television pledging to avenge centuries-old grievances of the Serbian state against the region's once-Ottoman Muslims.
Mladic's forces then encircled the town, once considered a U.N. "safe area" where thousands of Bosnian Muslims had sought refuge, allegedly conducting wholesale slaughter and rape, despite the presence of a few hundred lightly armed Dutch U.N. peacekeepers charged with protecting the area's residents and its refugees.
But Mladic's capture perhaps now offers the Balkans an opportunity to move past its dark history, removing a "barrier to reconciliation between Bosniaks, Serbs and Croats," said Sabine Freizer, an International Crisis Group Program Director.
The former general is considered the last of the fugitive war criminal suspects in the region, following the capture of Bosnian Serb leader Radovan Karadzic and former Serbian President Slobodan Milosevic, who died in jail in 2006 during his trial at The Hague.
But residents in the Serbian capital offered mixed emotions as to what a post-Mladic Serbia signifies.
"We're a little worn out about all the talks about the crime of innocent people and all that," said Damir Jovic, an employee of an information technology company in Belgrade. "I think people are just tired of that talk and want to get over it."
His wife, Sonja Damnjanovic, disagreed, while also disputing notions that Mladic's capture could pay dividends in her country's economic future.
"The important thing is that a man who did some bad things is captured for what he had done, not for our need to go into the European Union," she said.
Last month, a government poll (taken before Mladic's arrest) showed that more than 78% of the population was not personally prepared to report the whereabouts of the former military commander.
More than 68% of Serbs do not consider The Hague tribunal just, Minister Ljajic told CNN.
And 53% of the population disagreed that Mladic should be extradited to that court, he said, offering a glimpse into the political landscape confronting Serbian President Boris Tadic, who announced the ex-general's capture.
Many Serbs "consider the Hague more of a political than legal institution," Ljajic added.
Meanwhile, a medical team has determined that Mladic is in good enough shape to be extradited to face a war crimes tribunal, a court spokeswoman in Belgrade said Friday.
While the war crimes suspect suffers from several chronic conditions, the team said there are no immediate problems barring a move.
This comes after five doctors examined Mladic Thursday night, according to the ex-general's lawyer, Milos Saljic.
FOLLOW THIS TOPIC