STORY HIGHLIGHTS
William said he gave Diana's engagement ring to Kate so his mother "didn't miss out"
Royal experts say prince has been closely involved in wedding planning
Wedding has other links to Diana, such as coaches used in her wedding
But analysts say her charities, which are supported by William, is her main legacy
London (CNN) -- Just after announcing his engagement, Prince William told the world he had given Kate Middleton the distinctive sapphire and diamond ring belonging to his late mother Diana, Princess of Wales, as "my way of making sure my mother didn't miss out on today and the excitement."
The prince was particularly close to his mother, who died in a Paris car crash in 1997, and both he and his brother Harry know how much his wedding would have meant to her. William is even reported to have taken his fiancee to visit Diana's tomb at her ancestral home, Althorp House, in central England, in the run-up to the big day.
Watch the royal wedding and share it with iReport
Royal experts say the second-in-line to the British throne has been closely involved in the planning of the wedding, which has other echoes of Diana.
As well as taking place at Westminster Abbey, where his mother's funeral took place, after they are married, William and Kate will ride to Buckingham Palace in the open-topped 1902 State Landau carriage

that carried Prince Charles and Diana after their wedding in 1981. The Glass Coach that transported Diana to St. Paul's Cathedral will be used if the weather is wet.

What would Diana think of Kate?

Prince William through the years

Diana and Charles' wedding revisited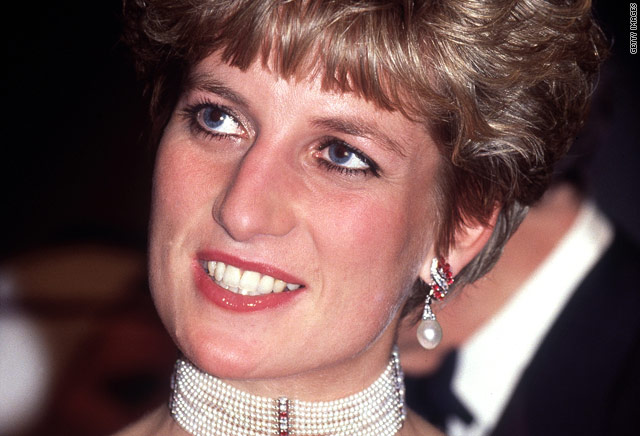 Gallery: The Diana Factor
And while Diana cannot be at the wedding, William seems to have taken care to invite guests of whom his mother might have approved. These include Elton John, a friend of Diana's who sang "Candle in the Wind" at her memorial service, soccer star David Beckham and Madonna's former husband Guy Ritchie.
Who's going to the wedding? Check out the guest list
Arthur Edwards, royal photographer for The Sun tabloid newspaper for more than 30 years, said Prince William -- like his mother before him -- wants close control of media coverage. "He wants everything his way. He didn't want anybody to break the (engagement) story, for instance," Edwards told CNN.
Love and marriage: What William told royal photographer
"William wanted to do it, he explained to us on the day of the engagement. He said 'I want this marriage for life.' And it was very organized and rational, the way he was speaking, and transparent, I thought. He was just very honest."
Kate too has described her respect for Diana, to whom she is often compared, saying "obviously I would have loved to have met her and she's obviously an inspirational woman to look up to."
Representatives of many of the charities closely associated with both William and his mother, such as the homeless project Centrepoint, will also be among the 1,900 wedding guests, and Ken Wharfe, who was Diana's bodyguard, said it is this that is her chief legacy.
"We all know what Diana's feelings would be today, she'd be immensely proud of her son. But she'll be remembered for the campaigning work she did to find a cure for AIDS. She was the first member of the royal family that was actually prepared to put her name to it. In the '80s, AIDS wasn't a subject that people talked about generally.
"I remember going with Diana to many charitable soup kitchens in central London, often without the glare of the media. I went with William as well, where she was actually instructing William. I think it will be her legacy of kindness and sincerity and the fact that she captivated the hearts of the normal man or woman on the street. Such was her popularity, she knew how to communicate ... remember the royal family do communicate, but in a way that is so traditionally royal."
Charity chief invited to wedding

I would have loved to have met (Diana) and she's obviously an inspirational woman to look up to.
--Kate Middleton
Christopher Anderson, author of "William and Kate," agreed, saying that while the young prince is emotionally close to his father, "William is his mother's son, certainly in affairs of the heart."
"He has a connection with people and it's because of what she consciously did to make him aware of how real people live."
William has stressed in a television interview that no one is "trying to fill my mother's shoes," and royal aides will be keen to ensure lessons have been learned from her tragic demise.
According to Catherine Ostler, former editor of society magazine Tatler, despite earlier incidents of paparazzi photographers harassing Kate -- reminiscent of their treatment of Diana -- there now seems to be greater restraint by the tabloid media.
"I think it's a deliberate decision by editors and the palace to protect her and William," Ostler said. "We've all got this specter of Diana and how horribly it went wrong and how we all know it must be unbearable pressure for a girl that age from an ordinary background to cope with this instant celebrity. So they're pacing it."
And more importantly there's a big difference between the William-Kate relationship and that of Charles and Diana.
"They are much more of an equal partnership," Ostler said. "There was always a sense from day one, even when they were engaged ... when Charles and Diana went on a trip and it was a walkabout and they split up, everyone would want to be on the Diana side of the fence. Now everybody says people don't mind if they get Kate or William because William has star quality in his own right."
William appears to have chosen a confident and beautiful woman, equal to his late mother in her prime. Now royal watchers wait in anticipation to see if Kate becomes another "People's Princess."
FOLLOW THIS TOPIC