STORY HIGHLIGHTS
Little girls wanting Kate Middleton's fairytale life enroll at "Princess Prep"
Course teaches curtseying, tea-drinking and horse-riding
Princess Prep is run by American author and royal fanatic Jerramy Fine
Fine says princess qualities include humility and selflessness
London, England (CNN) -- Inspired by Kate Middleton's impending fairytale wedding to Prince William, girls as young as eight are enrolling themselves in "Princess Prep" classes to learn how to act and behave like a little princess.
At Princess Prep in London, girls aged between eight and 11 learn a variety of core skills necessary for being a princess: how to curtsey, walk tall, ride a horse, and drink a cup of tea in an elegant fashion.
Jerramy Fine became fascinated with the British royal family from an early age and dreamt of one day marrying her own Prince Charming. Her hippie parents, she said, assumed she would grow out of it -- but she never did.
Colorado-born Fine, who has collected etiquette books such as Debrett's since she was a little girl and has been living in the UK since her early 20s, has a fine-tuned knowledge of upper class manners.
But, she says, Princess Prep isn't just a finishing school for wannabe princesses.
"It's about drawing on princess qualities and using them for whatever you choose to do in life," said Fine.
"A lot of people think princesses are all about pampering and entitlement when really all royalty is about putting everyone else in the entire realm and the entire kingdom before you," she continued.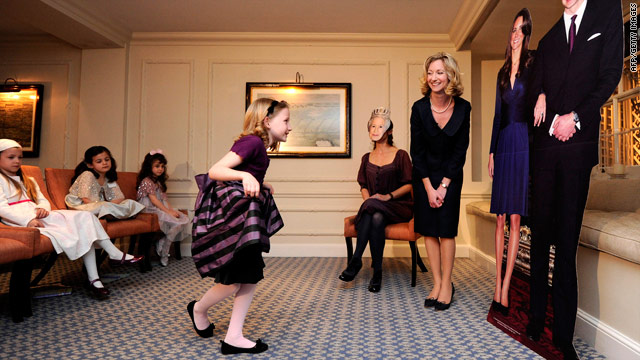 Gallery: Fine Young Ladies
It's about drawing on princess qualities and using them for whatever you choose to do in life.
--Jerramy Fine, author and director of Princess Prep
Learning qualities such as selflessness, philanthropy and humility is therefore as important at Princess Prep as perfecting your curtsey, and girls are encouraged to learn from the example of Princess Diana, who was famous for her charitable works.
Children enrolling on the camp tend to be mainly American, said Fine, though she has had enquiries from as far afield as Australia and Hong Kong.
Brits, she says, do not seem to be so interested. "We're open to English families, but I don't think English people understand the magic of royalty in the way that Americans relate to it," Fine said.
"Also, a lot of English people think you're either born with manners or you're not," she continued.
Costing over $4,000 for a week, parents may well balk at the idea of sending their kids to Princess Prep. But those that do consider it a once-in-a-lifetime opportunity for their children to experience the life of a princess, if only for a week.
Indeed, two out of the three week-long courses this summer are already all booked up.
Michelle Gray, an American based in the UK whose daughter Josephine took part in an afternoon etiquette class at Princess Prep in April, told CNN, "I thought it was a really good opportunity, just a chance to learn some etiquette and manners."
"I thought one of the best parts of their little afternoon was their chance to understand that real princesses don't just sit around all day and wait for people to serve them, there's actually a lot of responsibility involved and I thought that was really neat," Gray continued.
As to how she would feel if her daughter eventually got married to a prince, she said, "What mother would be disappointed? But I wouldn't want to put a goal for her to marry anybody."
Fine says Princess Prep is a way to give little girls the experience she always wanted as a child.
The author of memoir "Someday My Prince Will Come: True Adventures of a Wannabe Princess," Fine believes that the life of a fairytale princess is an enduring fantasy that little girls will always be drawn to.
"In 100 years, Barbie is not going to be around but I promise you that Cinderella, Sleeping Beauty, all those stories, will still be here," she said.
"The princess dream is still alive and kicking," she asserted.
FOLLOW THIS TOPIC