STORY HIGHLIGHTS
Celebrity look-alike photographer has published a book of photos about the royal couple
She used look-a-likes to imagine what the couple's life was like behind closed doors
Jackson used five different "Kate" look-alikes in order to get the best likeness
London (CNN) -- It's a scene few would witness -- the sight of a scantily clad, soon-to-be-royal Kate Middleton serving Britain's Prince William breakfast in bed.
But for Australian Simon Watkinson, it's an image he's all too familiar with.
No, this isn't a private scene of royal domestic bliss snapped by an unscrupulous paparazzo. This is a photo shoot by celebrity look-alike photographer Alison Jackson -- with Watkinson playing the leading role of Prince William.
The photos are all part of a "behind-the-scenes" book entitled "Kate and Wills Up the Aisle" -- a spoof retelling of the romance between the royal couple, who will marry, for real, on April 29.
"My intention is to look behind the scenes of the public face," Jackson said.
"Remember, we don't really know much about the royal family and what goes on, so I'm trying to imagine what it might be like," she said.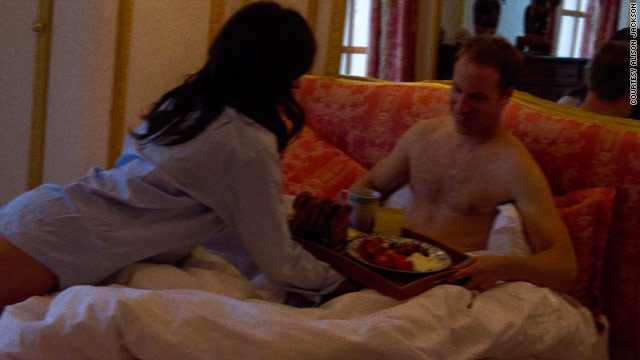 Gallery: The royal romance re-enacted
Prince William and his fiancee's penchant for privacy was a bonus for Jackson, allowing her a certain amount of artistic licence when it came to imagining the couple's private lives.
"Prince William is very much a blank canvas ... and Kate keeps very much a blank canvas I think," she said.
"To think Kate has been going out with Prince William for something like eight years and the public didn't really know about it. It's quite extraordinary."
For Watkinson, the shoot is a change of scenery from his everyday job as a civil engineer.
"It's been a lot of fun," he said. "We've been doing some crazy shoots and getting a lot of good feedback from the public.
"With Alison, it's a little bit more risque," he said. "Some of the shots are with slightly less clothing. You never know what to expect."
Starting with the couple's early courtship at St. Andrews University and ending with pictures of the big day, Jackson has imagined everything from the couple's brief breakup in 2007 to the proposal last year.
The book also features a host of celebrity look-alikes, including singer Elton John, English footballer David Beckham and Britain's X-Factor judge Cheryl Cole.
For Jackson, the most difficult part of the project was finding the right models.
"I had an excellent Prince William look-alike, but unfortunately he opted out, so I was left with no good look-alike," she said. "But suddenly a new Prince William turned up so I was able to make the book. Without him, it would have been completely impossible."
With Alison, it's a little bit more risque. Some of the shots are with slightly less clothing, you never know what to expect.
--Simon Watkinson, Prince William look-alike.
Finding the right Kate Middleton model has also proved complicated. So difficult is it to snap the future princess's likeness that Jackson has resorted to using five different look-alikes throughout the book.
"One's great for their body, another's great for their hair, another's great for their face, and then it depends on the scene," she said.
For Jackson, the most important element to get right is Kate Middleton's hair. "It's all about the outline," she said. "That's how we recognize people. So unless the hair is right, it's very difficult to get a good likeness."
Natalie Worth realized she shared similar features with the future princess when photos of the royal couple first surfaced in the media.
"Some of the first pictures of her (Kate Middleton) in the paper was of her and Wills after a night out in the back of a taxi," she said. "Someone bought the paper the next day and plunked it in front of me and asked, 'What were you doing last night?'"
Since the couple announced their engagement, Worth has been busy filming and posing for gossip and bridal magazines.
"I think I must have tried on about 50 wedding dresses now," she said.
"The best moment was being at Brown's bridal boutique and getting to try on all the lovely Vera Wang dresses," she said. "That was quite a high for me."
For Watkinson, look-alike modeling is not something he plans to do full-time, but he hasn't ruled out the possibility of future appearances.
"I guess it will last until the wedding and perhaps beyond that for the honeymoon," he said. "I guess when he becomes king maybe I might get a call, but I might have to lose a bit more hair by then."
FOLLOW THIS TOPIC