STORY HIGHLIGHTS
Planning are being drawn up to disrupt royal wedding, says leading anarchist protester
Anarchist groups are planning a "shock and awe campaign" which could involve fireworks
Black-clad protesters have recently marred legitimate anti-austerity rallies in London
London, England (CNN) -- "God Save the Queen ... the fascist regime," sang The Sex Pistols to mark Queen Elizabeth's Silver Jubilee in 1977. Now, Britain's anarchists are targeting the royals again.
According to one leading anarchist protester, plans are being drawn up for a demonstration using "shock and awe" tactics to disrupt Prince William's marriage to Kate Middleton on April 29.
Charlie Veitch, a former City banker who was made redundant during the financial crisis, heads a group of colorful protesters called the "Love Police Academy." He says that anarchists will put on a "disruption spectacular."
"As an anarchist, philosophical and political anarchist, I cannot support the royal family, I cannot support this government's actions," he said.
Veitch says Love Police Academy is committed to non-violent protest against the austerity cuts, the status quo and the establishment. He was one of those involved in last year's violent student protests against the UK government's plan to triple tuition fees for university students and advocates extreme tactics.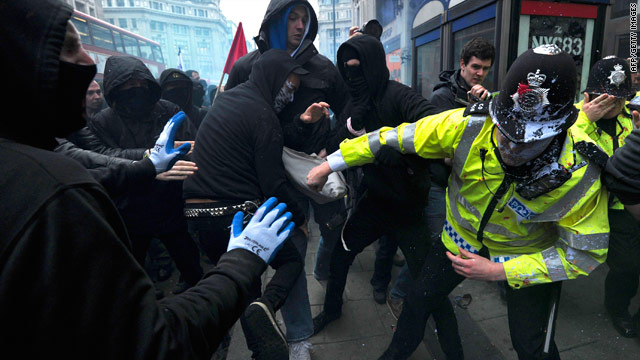 Gallery: 'Anarchy' on the streets of London
"I give full support to black bloc tactics that we saw at the weekend," he added, referring to the black-clad, hooded hardcore of protesters who have marred legitimate anti-austerity rallies in London in recent weeks. Police charged 149 people following the violence, during which paint, fireworks and flares were thrown at buildings and windows smashed.
Veitch is open about his privileged "right wing, traditional" family background. Indeed, he was the epitome of the British establishment until he was made redundant during the downturn.
He is also candid about the anarchists' plans for April 29, the day of the royal wedding.
He says they are putting together a "shock and awe" campaign. "It will involve a lot of fireworks, it will involve a lot of people dressed in black, it will involve a lot of very, very loud music to try and hack all the mainstream media broadcasts of that day."
Security expert Roy Ramm says the royal wedding presents an incredibly tough challenge for police.
"The police have got a job to get the public in close-up to the wedding, but they have to keep the people who want to cause disorder and damage like we have seen here (at recent protests), away from the wedding. It could be immensely disruptive," he said.
I don't see disrupting an illegitimate wedding between two very posh people who don't represent the average man on the street as terrorism.
--Charlie Veitch, leading anarchist protester.
Anarchist websites are already humming with references to the wedding.
"There are plans, which are being passed around online in encrypted forums and through encrypted emails -- which the government cannot hack -- to disrupt the procession route as well," said Veitch.
Veitch predicts tens of thousands of people will try to protest on the day of the wedding, but admits that "maybe one or two thousand" will be directly involved with disrupting the event.
"I'd say it will be a big mass rally. There will be of course people who are dressed all in black, who will be involved in more direct action. Of course, they will remain nameless," he said.
Veitch denies that direct action to interfere with the wedding could be seen as a form of terrorism. "I don't see disrupting an illegitimate wedding between two very posh people who don't represent the average man on the street as terrorism," he said.
Whether or not the threats of Veitch and others like him are based on real plans, the police are taking the potential for disruption seriously.
Knowing where to deploy riot police is tough -- the protesters could strike at almost any location. Police are considering using powers which give them the right to stop and search anyone during a designated time in a specific area, although they are not allowed to detain people unless there is evidence of wrongdoing.
London's Metropolitan Police Commander Bob Broadhurst says his officers face a difficult balancing act. They need to allow legitimate protest, without it getting out of hand. "There is a lot of chatter out there and no real intelligence, but we must bear in mind that people have a right to protest," he said.
Protesters have already targeted the royal family. In December, they threw paint at a Rolls-Royce carrying Prince Charles and his wife, Camilla, Duchess of Cornwall and cracked a window.
But on the wedding day, anarchists will have to blend in with the crowds and these staunch royalists could be the best defense police have, according to former Metropolitan Police Assistant Commissioner Andy Hayman.
"It won't be easy for the anarchists to infiltrate, the great majority would stop that happening. On the other hand, if there was a pot of paint thrown at any of the royal VIPs, that would be a worldwide embarrassment," he said.
FOLLOW THIS TOPIC